Tablets And Terrors: Magicka Expands
Built to spell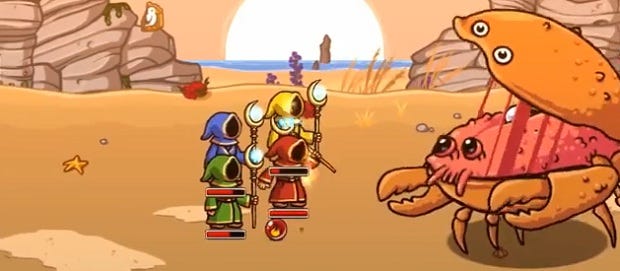 Most games would be content to play host to a series of Wizard Wars and frantic tactical multiplayer arena combat is almost certainly the focus of Magicka's immediate future, but the wizards at Paradox have a few other tricks up their sleeves, and hidden beneath their robes. First up is the Dungeons and Gargoyles DLC, a continuation of Dungeons & Daemons. There's a trailer for that below, as well as a video of Wizards of the Square Tablet, which is now available on PC following its debut on the titular tablets earlier this year. I didn't play it back then but it sounds like a devious little time-killer, like Bruce Willis in that one film. I might take a look this weekend and I'll definitely be playing some Wizard Wars. A multiplayer killathon that I'm not terrible at!
First up, here's Dungeons and Gargoyles.
And here are the tablet wizards and a particularly 'orrible crab.