Giveaway: Magicka Wizard Wars Starter Pack
If you like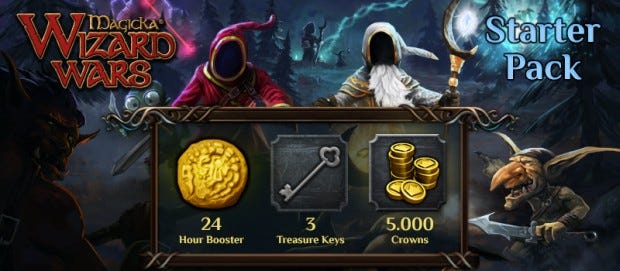 The release of Magicka 2 is today's freshest wizard news, but Magicka: Wizard Wars [official site] exited Early Access and impressed Adam just two weeks ago. It's a multiplayer, free-to-play spin off from the main series and "a smart piece of design". We've got 5000 starter packs to giveaway, including everything you see in the image above.
If you don't see an image above for some reason, the pack includes: a 24-hour XP boost, 3 treasure keys, and 5,000 pieces of in-game currency.
The widget below will dispense your key in exchange for one of four actions: following us on Twitter, following our Steam group, subscribing to our YouTube channel, or visiting our Facebook page. The latter should work without requiring a Facebook account and whether or not you've already Liked the page previously.
Have at it:
Magicka Wizard Wars Starter Pack giveaway

The keys are limited to one per user and the giveaway will expire when all the codes are gone or in 30 days.
Once you've received your key, you can redeem it through Steam. Open the client, sign in or register, then install the game (which is free). Then click 'Games' and 'Activate a Product on Steam'. Paste in the code delivered to you above and it should be added to your account.