Giveaway: Another 3000 Magicka Wizard Wars Beta Keys
Totally wizard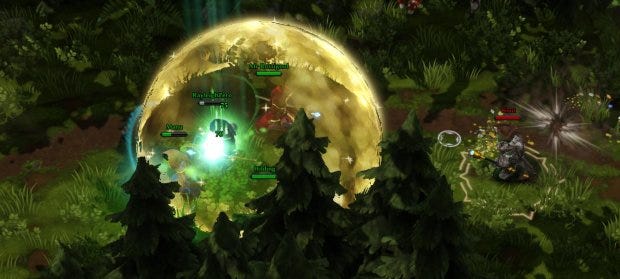 The last time we gave away Magicka: Wizard Wars beta keys, they vanished in an instant. There were tears, there was tearing of shirts, there was pounding of chests. Wail no longer: we've got three thousand more, which means you've a second brief window of opportunity if you want to get in on the rowdy wizarding multiplayer. Jim liked it. Adam liked it. Maybe you'll like it too.
The game is entering open beta on May 27th, but this key gets you into the game immediately without having to first buy one of its microtransactional starter packs. All you need to do is enter your email address in the field below. It's first-come, first-served and the key is distributed via godankey.com. They won't use your email address for anything other than dispensing the key.
It's a Steam key, but if you're not familiar with the process of redeeming those:
1: Go to: http://store.steampowered.com/
2. Click Register to create an account, or login if you already have an existing account
3. Start Steam client (download the Steam client if you did not have an existing account)
4: Click "Games" in the main menu
5: Select "Activate a product on steam" and enter code. The game is now added.
Then all you need to do is wait for the download to finish and you're away. The original Magicka games were single and co-op RPGs with a heavy dose of QWOP-like slapstick in their elemental cookbook; i.e. you were as likely to toss a burning boulder in the back of your buddy as you were one of its fantasy monsters. Magicka: Wizard Wars abandons the singleplayer story in favour of straight-up team deathmatch and duelling modes, while simplifying the spell system from millions of combinations to a mere 40,000. It's the same recipe for manic fun, though. Here's the latest trailer: