Electric Dreams: Technobabylon Is Blade Runner Meets Police Quest
Cyberpunk adventure game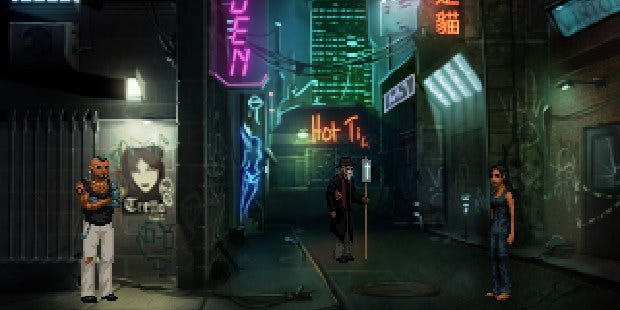 Like many of the liberal college WASPs of my generation I am a dedicated and loyal follower of cyberpunk. First, a fact: The birth place of cyberpunk is my birth place too, which can only be a sign of my deep allegiance to West Coast Neuromancy. So full of love am I, sometimes I'll find myself a big metallic collander to put over my head like a helmet and pretend the kitchen is losing its air reserves because it's sort of like being in the future.
So if you're of that ilk, I reckon you'll like this too: Technobabylon [official site], it's a little cyberpunk adventure game in the vein of Westwood Studio's Blade Runner. In fact it's a whole lot like Westwood's Blade Runner, right down to a few of the animation eccentricities. And now it has a release date.
In fact, the guys at publishers Wadjet Eye Games are calling it "Blade Runner meets Police Quest." Technobabylon, they write, "sets you loose in a world where 'wetware' wires people directly to the web, where the cerebral online Trance has replaced almost any need for human interaction, where the city's omnipresent AI, Central, has eyes on everyone and everything -- a world that could someday be ours."
Made by Technocrat Games, the game is coming to PC on May 21st. It will be available from the official website, Steam and GOG for $14.99.