The Amazing Eternals cancelled 2 months after its debut
The shortest of eternities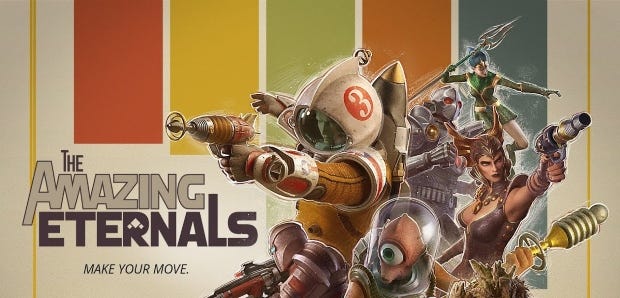 I'm not sure if this is a record for a high-profile studio announcing, releasing and shutting down an online game, but it probably comes close. The Amazing Eternals - the pulp sci-fi themed hero shooter from Warframe studio Digital Extremes - is being put on hold just two months after launching its beta.
Considering the game was only announced on the 16th of August, with its first public beta starting two weeks later, this is rather quick. But Digital Extremes were surprisingly candid in their short forum-posted letter to the community. The game just wasn't drawing the crowds needed, and the servers are scheduled to officially close on November 2nd.
"Unfortunately, the game wasn't attracting players fast enough to support a viable matchmaking player base with the current game design direction, which is the lifeblood of this type of game," said the statement. "So, with heavy hearts, we're taking a step back to reevaluate the design and may revisit our intrepid heroes in the future."
This decision comes in the wake of Warframe's Plains of Eidolon expansion, which adds to the studio's stable space-ninja shooter. While sad to see The Amazing Eternals and its pulp sci-fi setting abandoned so early, it's understandable from a pragmatic perspective: Better to assign development resources to an existing, growing success than gamble on a risky genre after a weak early showing.
Digital Extremes are offering full refunds to anyone who bought the game via their Founders Program, although people should probably move fast on that, as it's only available for a 72 hour period - less a day, at the time of writing. They do hope to return to the pulp heroes at some point, says the studio, but at the moment there are no plans and nothing to announce. Until further notice, The Amazing Eternals is going back in its box.