The Complete Dote Night
Dota? I hardly knew 'er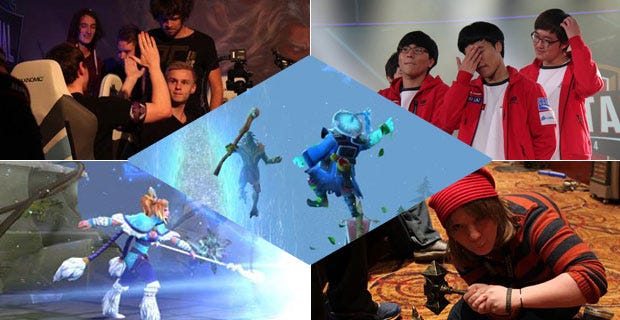 Part of a miscellany of serious thoughts, animal gifs, and anecdotage from the realm of MOBAs/hero brawlers/lane-pushers/ARTS/tactical wizard-em-ups. One day Pip might even tell you the story of how she bumped into Na'Vi's Dendi at a dessert buffet cart*.
Hello!
It's time for some Dote Night real talk:
To get to the point fast, Dote Night as a column is going on hiatus BUT writing about cool or weird things in MOBA-land is still part of what I do at RPS. Coverage of the games and tournaments isn't stopping and I'm still playing matches myself, but after more than a year I need a break from the column format because I can feel I'm starting to burn out on it. As a result this post marks the end of this run of Dote Night.
I've created an index of all of the entries below with links and descriptions so you can have a potter round the archive if you fancy.
Before I sign off I just wanted to say this, though:
I've had games I poured dozens, maybe hundreds, of hours into before Dota and League of Legends and Smite but MOBAs were the first time games went from being single-player experiences cut off from other aspects of my life to part of my life. I've made friends through them, found work through them, traveled to different continents because of them, been utterly furious with them and cried in massive arenas because of them.
My sincere hope with this column is that it shared a little bit of that excitement with you, whether you played or not.
Pip x
1. Fairness, Tactics And The Poirot Of Esports - In defence of rat Dota (and why it's a bit like a TV murder mystery)
2. Will I Need A Jacket? - weather effects and their potential to affect player mood
3. The Year Of The Noob - the importance of the Newcomer Stream at The International 2014
4. The Science And Ice Cream Of Losing Streaks - trying to deal with losing streaks (Vienetta is important)
5. Videogame Photography - not actual photography, but images taken in free camera mode, experimenting with composition, manipulation and so on
6. Era And The Case For A Dota Reserve Squad - what a bad pro player situation tells up about the need for substitute players at The International
7. How Did I Spend £215 On A 'Free' Game!? - yeah, it's £395 now
8. Does Lore Matter To Online Wizard Fights? - the lore versus the weird history of MOBAs
9. The Pinging In My Ears - a handy guide to translating pings
10. How Does Dota 2 Matchmaking Work? - also the perils of 2p arcade machines
11. Autumn/Winter 6.82 - why Dota 2 patches are like fashion week
12. 16 Things Only A Dota 2 Player Understands - a surprising number of people REALLY did not get that this was tongue in cheek
13. Why Dota 2 Is Navy Blue - depression and why I had to revise my relationship with Dota as a comfort game
14. Navigating The Friendship Skill Gap - what happens when you start to separate out in terms of skill?
15. Dota 322 - the mid-match disqualification of a team for match-fixing and why players risk their careers on this stuff
16. BTS and joinDOTA On Fixing Match-Fixing - how two organisations try to prevent match-fixing
17. The Colour Palette Of Heroes - how Dota 2 uses colour palettes to communicate
18. The Perfect Crowd - how live events work and why some feel fantastic
19. Foreseer's Contract And We Need Megawings - a rare moment of being bothered by Dota's monetisation
20. Looking Backwards At Progress - I used to have a blog where I wrote about silly things that had happened in Dota so I went back to it with the "benefit" of experience
21. Twitch Reflexes - Steam streaming and a couple of ways it could appeal to existing Dota Twitch streamers
22. The Problem With YouPorn Sponsorship - this isn't about making people bad about getting off, it's about problems endemic to the industry getting shored up by this stuff
23. The Training Wheels Of Wizardry - testing out Dota's old fledgling tutorial mode
24. The Monstrous Regiment Of MOBAs - why the world needs a Discworld MOBA
25. Build Me A Smite Build - How Smite builds worked back in the time of the Smite World Championships 2015
26. Learning To LoL - getting to grips with Riot's MOBA behemoth
27. LoL Tourney Abandons Awful LGBT Rules - the reaction when a tournament run by Garena tried to impose restrictive LGBT-focused rules
28. A Beginner's Glossary For Dota 2
29. Seriously, Puck This - taking on the All-Hero Challenge
30. SpectateFaker And Riot's Jibber Jabber - a really interesting situation revolving round game rights and players who use streaming as a sizeable source of income
31. RPS vs PCG - oh, y'know... THAT TIME WE TROUNCED PCG IN A MATCH
32. 5 Things Playing A Tournament Taught Me
33. Possibly The Worst Dota 2 Setup On Earth - or, "How I nearly ruined my back"
34. LCS Is Like Holby City (And That's Good) - eSports as a soap opera
35. The Influence of LoL On Smite - how easy is it to switch from League to Smite and why?
36. Pip's Cosplay Challenge - this is a project that is still ongoing. I have a LOT of felt in the wardrobe, some appropriate trousers and the right jumper. I just need to craft a massive gun and I'll be vaguely back on track!
37. A Gallery In Three Lanes - sharing some lovely Dota 2 fan art
38. The Bouncers Of Smite - how Hi-Rez deal with bad behaviour in their
MOBA
39. Poking at Patch 6.84 - enchanted mangoes and YOU
40. Dealing With Doofuses - some strategies for dealing with toxic jerks
41. How League Of Legends' Starter Champs Work - how and why the starter pool got picked
42. Capitalist's Ones To Watch At ESL One Frankfurt - an interview with caster, Austin Walsh
43. Squirrel Design And Ratatoskr Art - insight into the design process for a squirrel god
44. Nature Spotting In Dota 2 - the wildlife you trample while brawling in all its glory
45. Runes And Masteries With Riv - the League Of Legends expert explains the most unwieldy aspects of LoL
46. The Petting Zoo Of Disaster - the time I tried to use the Reborn toolset to build a lovely zoo
47. Smite's $1m Prize Pool Cap And What It Means For The Pro Scene - Hi-Rez talk about one way to build a sustainable pro scene
48. MMR Problems And A Potential Solution - the appeal of an MMR reset
49. Which Role Should You Play In Dota 2? - a very useful quiz
50. The Fallout From The International 2015 - how character popularity shifts after a major event
51. The Wisdom Of Guided Bots - how Dota will do tutorials in Reborn
52. How To Fix Tutorials (Sort Of) - ideas for improving new player experiences
53. First Impressions, First Heroes - which heroes I learned on and why
*One day. But not today :D