The Curious Expedition demo ventures forth
Boldly go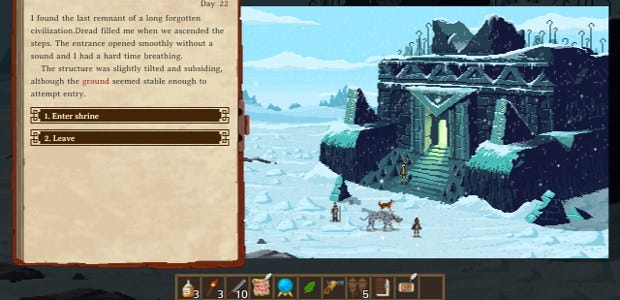 Say, have you played The Curious Expedition, the turn-based colonial-era exploration game which we declared our favourite roguelikelike of 2016? You can't all have, as otherwise developers Maschinen-Mensch wouldn't have released a demo today. It contains two expeditions. So whoever you missing-outers are, go on, get in, give it a go. You needn't even download anything special to play, as the demo runs in your browser.
As the dearly departed Adam said in his The Curious Expedition review:
"The Curious Expedition is a game about trekking across procedurally generated maps, searching for treasure and leaving a trail of destruction wherever you go. Sure, it's possible to tread softly and treat those you meet with respect, but the game really shines when you're skipping from one catastrophe to the next with a mule-load of treasure in tow.

"I love it. If you remember Strange Adventures in Infinite Space fondly, it scratches a similar urge. It's a coffeebreak game, and I mean that as a very strong compliment. You can play through an expedition in a few minutes, though you could also spend much longer agonising over decisions and trying to make the best of every bad situation. With its emergent narratives and threats, it has something in common with Spelunky and the old Escape From Atlantis boardgame as well as some recent roguelites. I'm not going to tell you about everything that there is to find because expeditions are all about discovery after all, so keep that in mind as you read. There is more to the game than jungles and shrines."
Maschinen-Mensch have kept working on the game since all that praise, adding things including a free Arctic expansion and, a few months ago, mod support.
If you like The Curious Expedition's demo and want the full game for keepsies, it's £11/€15/$15 on Steam and GOG.