The End: NCsoft Responds To Save City Of Heroes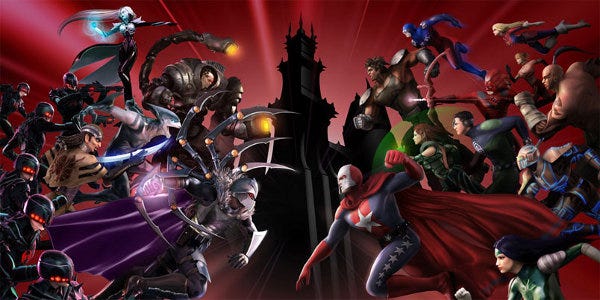 Recently, I spoke with folks behind the Save City of Heroes movement, and they were absolutely delightful. Intelligent, calm, organized, passionate, motivated, etc. If any qualities could actually manage to wrest an MMO from Death's clammy grip, you'd figure those would do the trick. And, as it turns out, all the in-game and real-world events certainly got NCsoft's attention. But now, after an agonizing wait, the recently "restructured" MMO behemoth has finally fired back. Unfortunately, it turns out that no news was good news. Sorry, everyone: No more (City of) heroes.
Impressively, NCsoft claims it really did try to find an alternative to paving over the city and turning it into a series of super-powered parking lots. It explained the sad situation in a brief letter to fans:
"We wanted to let you know that your voices have been heard and your concerns have been taken into serious consideration. We appreciate the overwhelmingly constructive and positive messages in the emails, notes, and packages you've sent in support of the game. It has not been an easy decision for us to close Paragon Studios and prepare to shut down City of Heroes. We've exhausted all options including the selling of the studio and the rights to the City of Heroes intellectual property, but in the end, efforts to do so were not successful. City of Heroes has a special place in all of our hearts, and we want to ensure its reputation and the memories we share for the game end on a high note."

"Once again, we will be holding events throughout the process of preparing for the game's end, and we encourage players and fans of the franchise to join forces and enjoy their time in a game that we've enjoyed supporting for more than eight years."
Here are the events of which NCsoft speaks. Sobbing into guildies' rippling spandex-clad shoulders, meanwhile, isn't officially sanctioned, but comes highly recommended nonetheless.
Seriously, though, this is a pretty miserable ending to a really promising story. That said, there's no reason to declare this a total defeat. Save City of Heroes laid a blueprint for communities in terms of getting publisher attention the right way, and that's something to be seriously proud of. Really, it was an amazing effort by any standard, and it united thousands of people - but never by way of declaring some other party "the enemy." No, City of Heroes won't get to fizzle out and slowly fade away like other MMOs, but as far as ending on a high note goes, I'm not sure it's possible to do it any better.