The Flare Path: Continuum
Simulation & wargame blather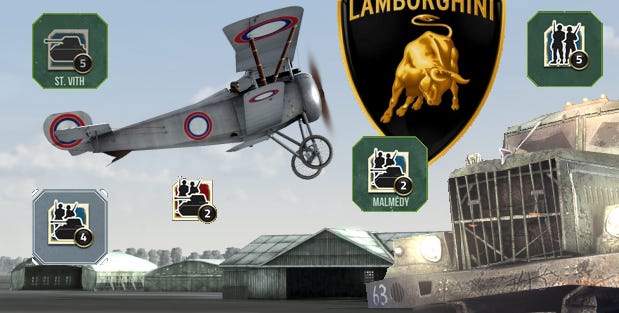 What a con! So far '2015' feels a lot like a re-badged '2014'. I know you shouldn't look a free update in the mouth, but gosh, a few improvements would have been nice. How much longer must we wait for that Ebola fix... that promised 'Peace in South Sudan' scenario? Surely ISIL-seeking killer bees and colourblind-friendly rainbows don't take that long to code. I'm beginning to think the devs behind this cruel-yet-compelling massively-multiplayer Homo sapiens sim don't care a jot for us end users.
A few stories that almost slipped past Flare Path in the dying days of 2014...
Somnolent for most of the past year, Rise of Flight was roused mid-December by the arrival of a Russian mastodon. Dragging themselves away from WW2 Stalingrad for a spell, developers 777 added the contents of spin-off project ILYA Muromets to their splendid-but-somewhat-neglected Great War dogfight sim. All versions of RoF, including the free demo, now feature a snow-dusted Eastern Front map, a flyable Russian Nieuport 17, and a downable four-engined Sikorsky S-22.
The latter will admit player pilots and gunners if purchased as DLC ($20, includes bespoke campaign and all field and weapon mods) but currently you'll need to buy it through www.riseofflight.com as the Steam 'Muromets' module is still en route.
*************************************************
Incorrigible loafers Kunos Simulazioni took an entire weekend off following Assetto Corsa's laurel-wreathed launch on December 19. Suitably ashamed of themselves, they returned the following week bearing a Porsche 911-shaped gift. Lightened, stiffened, smoothed and re-engined, the RUF 'Yellowbird' was the fastest sports car in the world at the time of its 1987 release.
Displaying a level of generosity that sadly seems to have vanished from other regions of the sim genre, the Yellowbird release was quickly followed by news of another gratis expansion. Kunos have successfully wooed automotive artists Lamborghini, meaning the V12/V10 roars of beasts like the Aventador, Countach, Gallardo and Huracán will soon be shivering AC armcos and aficionados.
Of course, thanks to a fecund mod scene, ludicrously handsome Lambos are already loose inside 2014's most exciting race sim.
*************************************************
Hopefully, "Keep Pavel Zagrebelnyj happy" was on Oovee Game Studios 'new year's resolutions' list. Relations between Spintires' British overseers and its lone Russian coder, appeared close to collapse in the run-up to Christmas with Pavel publicly complaining that the game had been abandoned by rapacious project bosses.
"Sad news ... just seemed like the development process started, I almost finished my map and tools to develop mods (free upgrade) ... as our Englishmen from oovee together with the loot disappeared. What infuriates even more is the fact that my posts are removed from the official English-language forum.
I don't have permissions to upload the update to Steam. So now I'll complete and release map editor, in the version it is now, and this will be end of Spintires."
Oovee's Christmas message hints at reconciliation...
"As 2014 comes to a close - we would like to thank all of our fans for supporting us and would like to look back over the year. We have experienced good days and we have experienced hard days - while we can only wish for a walk in the park, we must face the truth that there will always challenges to contend with.
With the success of Spintires and further expansion of the game planned - we see that we couldn't have come this far without the support of all of you. Every day is a learning curve and every day is different - it is now that we should learn from the past so we can move successfully into the future.
Going forward into 2015, we look to see the release of mod support... a feature that has been patiently awaited by you all. Furthermore, both paid and free downloadable content will be makings it's way to you all, where new maps, trucks and game modes will be creating a longer playable life span to the game."
… and future treats, but considering Spintire's painfully slow growth in 2014, and the ramshackle state of the latest map (The Pit) it's hard to be optimistic.
*************************************************
On Christmas Eve at roughly the same time I was feeding my Bulge Wargames Survey into the ravening maw of the RPS Publishomatic 4000 (DANGER. Moving machinery. Risk of trapped appendages) Combat Mission engineers Battlefront were quietly announcing that their well-travelled WW2 tactics series will be heading to the Ardennes next.
The plan is to deal with the Battle of the Bulge and the subsequent push into Germany via another 'base game' and two optional modules. With Normandy, Italy and the Eastern Front action already represented by distinct module-spawning CMx2 titles, and a near-future offering - 'Black Sea' – due in mid-January, second-gen CM's TOE is becoming increasingly atomised and confusing (On reflection, perhaps a DCS World-style business model - free engine, payware modules - would have made more sense). That said, the prospect of probing Panther-infested fog and paratrooper-picketed plantations in the company of a wargame as subtle and fraught as CMx2 is bally attractive.
*************************************************
Likely to beat Battlefront's Bulge title to Bastogne by several months is Hunted Cow's conversion of Decision Games NUTS!
Going by BGG reviews of the 1998 prototype, it looks like this $15 digital card game will be as idiosyncratic as it is flavoursome. The two 150-card decks attempt to represent everything from weather and logistics to morale collapses and false flag operations. Bizarrely, terrain appears on the blank 'map' as the game progresses, meaning obstacles like rivers may appear in squares already painlessly traversed by advancing units. It all sounds rather odd, but assuming the abstractions aren't too heavy-handed and Hunted Cow succeed in fashioning an AI capable of using all those cards intelligently, then NUTS! might just turn out to be perfect grognard finger food.
*************************************************
The Flare Path Foxer
The solution to October 3's foxer was staring you in the face fingertips.
a. Trim tab
b. F-11 Tiger
c. Anita Page
d. Macchi C.200 'Saetta' (Arrow) variants
e. End of war in Europe
f. Frederick Handley Page
g. Silk escape map
h. Pistol lock
i. Home Office
The solution to Oct 17's foxer was barely concealed.
a. Buff Orpington
b. Toronto Blue Jays logo
c. Strip mine
d. General Buck Turgidson
e. Coventry armoured car
f. Tu-95 'Bear'
g. Emperor: Rise of the Middle Kingdom
h. De Havilland Firestreak
The solution to Oct 31's foxer was hiding in a secret annexe in Amsterdam.
a. An-225
b. Money from Het Beursspel board game
c. Ki-84 'Frank'
d. Conker
e. 8th Reconnaissance Regiment, 14th Canadian Hussars (the liberators of Kamp Westerbork)
f. Pectin
g. Wright Brothers Memorial, Kitty Hawk
The solution to December 12's foxer was, according to Winston Churchill, the worst disaster in British military history.
a. CH-113 Labrador
b. Ford logo
c. Alexandra Feodorovna
d. Tank from 'Z'
e. Percival Pinkerton
f. Armin Faber's Fw 190
g. James Clavell
h. Gibraltar 5p
***********************************
Roman's New Year Resolutions:
*Stroke more bumble bees
*Drink more birdsong
*Pillow more books
*Shoulder more sunsets
*Knot more contrails
*Produce more produce
*Pine less
*Dart moor
*Slog on
All answers in one thread, please.