The Flare Path: Cumulonimble
Simulation & wargame news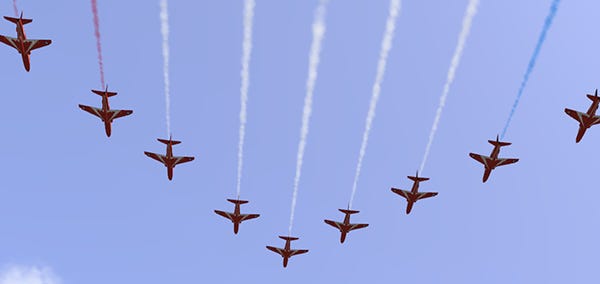 Dear Mr Ardmaann Animation. I Notice you have not sent ananswer to my message yet. If you dont answer soon I will send my idea to Pixar and they will make "Charlie Chirp: The Story Of A Sparrow Who Wants To Join The famous Silver Swifts Aerobatic Display Team." DO YOU WANT THIS TO HAPPEN? If its because you think the bit where Charlie gets bullied by the blackbirds is raceist I will change that. It would be just as good if he was bullied by magpies or special moths. If its because you do not like the end when Charlie gets sucked into the Airbus A320 engine NO PROBLEM!! He could get sucked into a Boeing 787 Dreamliner engine. Actually this could be better! Your good fiend Tim Stone.
Aviators And Aviatricks
It's that time of the year again when owl-necked appreciators of aerial artistry gather at a chilly aerodrome just outside Novy Bialpriptsnskovodetsk to chew imaginary hotdogs and cheer imaginative hotdogging.
Thirty-three of the world's finest virtual aerobatic teams and solo performers are appearing at the eighth VFAT event. If previous shows are any guide, then the vast majority of the live-streamed displays running from this evening through to Sunday night will be breathtakingly professional affairs. For those of us that sometimes can't even manage to fly in formation with our own shadows, the skills these Flaming Cliffs, DCS World, and IL-2 outfits exhibit border on the supernatural.
As usual the festival will be a gun, bomb and missile-free zone (Expect plenty of pretty flare fans and smoke trails, though) and reality-inspired safety regs ("Aerobatic maneuvers directly above the virtual public are not allowed.") mean you shouldn't find yourself picking jagged pieces of Ka-50 out of your Bratwurst. Only approved participants can perform, but anyone with FC2 and the right mods can go for glory in tonight's midnight aero race.
Here's a few of the artistes I'll be making a special effort to catch this year:
VAT Berkuts
(1900-1940 GMT Saturday - team. 2200-2215 GMT Saturday - solo)
"The VAT Berkuts was born in January 2008 with 5 pilots from the White Ravens aerobatic team. Since then our server has become a well known and an enjoyable place to fly for many pilots among the community.
At VFAT 2012, the VAT Berkuts will present the solo display with the new Mig-29UB, flying on- and over its flight capabilities. The Berkut pilots stand for high precision formation and solo aerobatics, reached through dedication to the group and the love for aerobatic flight."
Virtual Thunderbirds
(2300-0000 GMT Today)
"Our mission is to reenact the aerial demonstration of the USAF Thunderbirds, past and present. This includes adhering to the real world radio calls, maneuver parameters and procedures, professionalism, and unbelievable attention to detail, a trademark the USAF Thunderbirds have been known for throughout its history since 1953. "
Guard of Russia
(1635-1730 GMT Sunday)
Virtual Horsemen
(1700-1720 GMT Today)
"The Virtual Horsemen represent the worlds only P-51 Mustang formation aerobatic team: The Horsemen. Flying a tight 2 or 3 ship display, we aim to replicate their display as accurately as possible in a flight simulator. Help and support from the real team since 2009 has enabled us to produce the most accurate demonstration possible in the virtual world to date. "
Virtual Turkish Stars
(1550-1620 GMT Saturday)
"The Virtual Turkish Stars is a virtual demonstration team which represents the real Turkish Stars with the flight simulator Lock On: Flaming Cliffs 2. Over the years we have become a strong team with the same interests, motivation and passion for flying. We are also the first team to re-enact the Turkish Stars in any flight simulator. "
Jet-E-Sons
(2000-2100 GMT Saturday)
"The team was born in 2009. We have performed at 2 VFATs (2010 on SU27 and 2011 on Gripen JAS39B). This year, the Jet-E-Sons team wants to do a tribute to the "Patrouille de France". It's the reason why we fly on ALPHAJET.Our display is still aggressive; we fly at low altitude, closer to each others and never far away from the runway...We hope you'll enjoy our show!"
Virtual Blue Impulse
(1400-1500 Saturday)
" ...a virtual aerobatic team from Japan. "
Virtual Red Arrows
(1900-2000 GMT Sunday)
"The Virtual Red Arrows are a dedicated team of aviation enthusiasts. The team was founded in 2005 and performed the first 9 ship formation display LIVE at the Virtual Festival of Aerobatic Teams in December 2009. Our shows are tailored as closely as possible to the RAF Red Arrows show routines in respect to their dedication and unrivaled skills."
A Zonda Fondler Ponders
What FP doesn't know about race sims could be written on the back of a postage stamp. Unfortunately, the stamp in question is the Tongan $5 blue - the only stamp in philatelic history to feature a life-size portrait of a reigning monarch.
iRacing... Richard Burns Rally... Geoff Crammond's Grand Prix 4... Mildred Bruce's Blower Bentley Challenge... I shudder to think of all the genre greats that have sped past while I was busy shepherding Shermans and fumbling for fuel mixture levers. In the circumstances I'm really not sure I can be trusted to say Useful Things about hot automotive prospects like Assetto Corsa.
Thank heavens, then, I have the email address of consummate kerb-kisser Jon Denton and the barefaced cheek to badger him for gen. Jon, a regular contributor to AutoSimSport magazine and one of the founders of RAVSim, has recently returned from an Italian rendezvous with the work-in-progress Assetto Corsa. With the exception of the devs themselves (Kunos Simulazioni), and the select band of sworn-to-secrecy testers, he's probably spent more time behind the wheel of this intriguing rFactor2/GTR3 rival than anyone else.
RPS: Simbin, ISI, and Kunos all appear to be in the process of developing fairly similar sims. What's special about Assetto Corsa?
Jon: Kunos' previous creation, netKar Pro, was a rough diamond. The base vehicle physics remain rated as the benchmark in the genre. Sadly, the online play was initially so bad the sim was neglected by the community at large. AC promises vastly improved MP, even stronger physics (the tyre modelling is particularly sophisticated) together with laser scanned circuit accuracy and a new DX11 graphics engine. Unprecedented access to manufacturer data (the devs have secured vehicle licences from the likes of Lotus, BMW, and Pagani) is reflected in the accuracy of the driving experience.
RPS: Of the cars you drove in Vallelunga, which coaxed the broadest grin?
Jon: Without doubt it was the BMW E30 M3 Evo DTM. The car is so finely balanced and satisfying to drive that grins are inevitable. There are a few much faster GT and F1 derived cars, but they start to come under the category of 'hard work'. The BMW E30 DTM car straddles the gap of 'not too slow, not too fast' and should create some great door-handle-rubbing racing.
RPS: In your latest article you describe AC cars as feeling "rather easy to drive initially, as they arguably should be". Do you think most serious race sims exaggerate handling difficulties?
Jon: I don't think current sims on the market have deliberately exaggerated handling behaviour, I think it's more that the tyre models in use couldn't always keep up with what was going on. If you're pushing a tyre, load increases grip to a point where the tyre is overloaded, and then grip drops off. In older sims this loss of grip is often too severe or sudden; sometimes there's a sheer cliff between 'tons of grip' and 'zero grip'.
This all comes down to tyre model equations that are exceedingly boring and fascinate me and about seven other people in the world. What Kunos are doing is looking into the dynamics of the tyre in more depth, and working with reams of data and test drivers to try to create a simulated tyre that is more manageable when it steps over the limit. This results in a more realistic driving experience - a car that's easy to drive, but hard to master. Some loss of grip is going to happen if you push, and this will mean a potentially slower lap time, but not necessarily a car in a wall.
RPS: Not owning a force feedback wheel, I find myself relying heavily on audio feedback in race sims. Are AC cars talkative?
Jon: There was little transmission or braking sound when I tested (audio is something Kunos are working very hard on at present) but the tyres were satisfyingly chirpy. Ultimately, I would say an FFB wheel will always be the best way to enjoy any racing game, and when it comes to AC, the force feedback implementation is very subtle and beautifully communicative which adds a huge amount to the immersion.
RPS: Kunos don't have much experience of crafting race sim AI. Are you confident they can deliver in this area?
Jon: I drove against an early version at GamesCom 2012, and it was initially very aggressive, but there remains a lot of fine tuning to be done, so we'll have to see how it turns out. AI drivers will utilize the same physics engine as the player. The idea is this approach will lead to more immersive and realistic AI.
RPS: The developers of serious flight sims are constantly pushing the realism envelope while consistently failing to explore new SP campaign ideas. Do you think it's fair to accuse the makers of high-fidelity race sims of similar timidity?
Jon: The bid for greater realism does seem to have left behind gameplay concerns in many niche simulator markets. Many a hardcore race simmer is happy with a bunch of cars and tracks and their own imagination, as a flight simmer may be happy with a bunch of planes and somewhere to fly them. I think this can leave a more casual sim-driver a little unfulfilled. The 'campaigns' of racing games have often been built around real-life motorsport series, thus presenting each round in sequence, racing the same AI guys, over a championship season. In older sims like Grand Prix Legends this structure can generate pleasing narratives and foster levels of immersion often absent today.
Since the push towards online play, many game genres seem to have neglected the offline player, and I don't think racing sims are an exception. Sims like AC, rFactor 2, pCARS or iRacing offer a disparate set of cars to drive on potentially unrelated tracks. It's great for the online player to have this variety, but it can lead to a drop in atmosphere and purpose when racing offline. If you're in a simple, single race against nameless AI on a track and car combination that would never happen in real life, what is there to draw you in? I am not sure if I know the solution, but a single player campaign works on a player's own terms, and appeals to many players who don't want to have to fit in with schedules of online races. Plus more immersion through a sustained season, can give a player more purpose, and in race sims a player often needs a reason to bother with finishing fourth or fifth in a race.
RPS: Are there are any other WIP race sims or mods you're particularly excited about at present?
Jon: I've been enjoying the Factor 2 beta, which is coming along very nicely indeed. ISI are doing some very good things with environmental simulation that has been missing in a lot of the current crop of sims, and adds welcome variety to races. Development of SMS's Project CARS is progressing well too; after some interesting and very pretty alpha builds the sim is starting to feel more satisfying to drive.
With Simbin's Raceroom in beta now, and the ongoing upgrades and development of the iRacing service, I think racing sim fans have got a lot to be excited about in 2013.
RPS: Thank you for your time.
The tyre warmers are due to come off Assetto Corsa in Q1 2013.