The Flare Path: Thumping Great Thumper Fan
A diesel to die for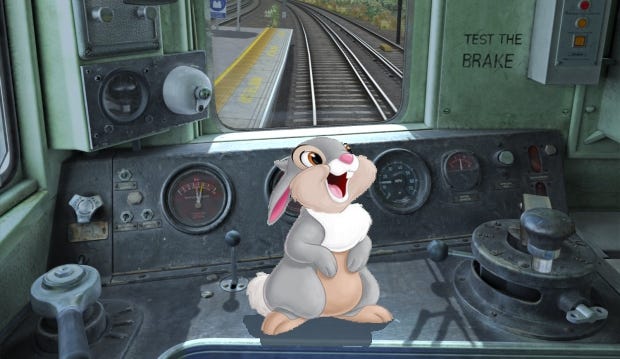 Newly released German coach sim Fernbus Simulator has spent the week hiding my car keys, flicking rubber bands in my direction, and thumbing through my favourite books with jammy fingers. Exasperated by its anti-social antics I've put it aside until TML improve controller configuration facilities and patch away the most infuriating bugs and performance issues. Instead of a Fernbus impressions piece radiating frustration, today in FP you're going to get a Train Simulator 2016 article radiating admiration. Today I'd like to talk about why Armstrong Powerhouse's new Class 205 'Thumper' has just elbowed out a very miffed Su-25 Frogfoot from my All-Time Favourite Sim Steeds top ten.
The 'Thumpers' – so called because of their characteristic engine throb - were first generation British diesel-electric* multiple units that spent their remarkably long working lives (1957-2004) beetling around the unelectrified bits of the Southern Region. Not swift, glamorous or of especially distinctive appearance, they might seem an unpromising subject for sim immortalisation. Other attempts at modelling SR multiple units in TS2016 have produced largely forgettable DLC like the Class 415 and Class 422 EMUs. What's different in this instance is this add-on has been crafted by a dev as devoted and obsessive in their own way as A2A Simulations or M-R-Software.
*Electric traction motors powered by a diesel engine
Armstrong Powerhouse, best known for their highly-regarded sound packs, have reproduced the Thumper with Rembrandt-like honesty and attention to detail. The wrinkles, warts, bristles and dimples that other TS add-on artisans routinely exclude are present, and the difference is transformational. Step into the cab and I'll show you what I mean.
We're about to perform an extremely unusual task in train simming - a full (optional) cold start. First, I cursor my way to the battery box to de-isolate the battery. Now it's back to the cab to set the brake lever to ensure it syncs with the main reservoir once the engine is running. Okay, time to turn the all-important master key in the power handle base. Next we run the oil priming pump by moving the reverser handle to the 'EO' setting for thirty seconds or so. Fancy rousing the 600 bhp English Electric power plant yourself? Step through that door into the engine compartment (press the left arrow key three times) and you'll find an oil pressure gauge and a row of three buttons. Assuming the needle on the gauge has reached at least 20 psi, press the 'engine start' button and, fingers-crossed, the old girl should splutter into life.
Naturally, there's still plenty more to do before we exit the depot. That big wheel over there is the handbrake. The battered cabinet behind us contains the train heating controls and saloon lighting switches. The one in front hides the lovely hand-cranked headcode rollerblinds and the naked bulbs that illuminate them. That telephone gizmo to the right is a nicely modelled Cab Secure Radio unit (On routes set-up for CSR we use that to communicate with signalmen). Everything you see around you can be pushed, rotated, flipped, or opened, and this abundance of tactile protuberances together with the kind of pleasing patination so often missing from TS2016 cabs, ensures the 205's cockpit begins soothing and spell-weaving the second you step into it.
And the Thumper looks and sounds just as good on the outside as it does on the inside. Supplied in eleven different liveries, the units boast bespoke door animations and body sway physics.
In a station when you dab the unload/load passengers button, instead of every door swinging open at exactly the same time, portals open and close randomly. Though the boarders and alighters responsible for the unpredictable chorus of clicks and slams are invisible, peering back down the length of the train it takes precious little imagination to picture the parent struggling with the pushchair, the dozing nightshift worker who's woken up in the nick of time, the sprinting commuter who's almost cut it too fine.
Dissatisfied with TS2016's default and decidedly bogus body sway (The sim simply jiggles your view around) AP have implemented something far more plausible. Snaking through points or scuttling along at speed, carriages rock independently. It's a small thing, but the devs seem to understand that small things matter in a sim as low-intensity and atmosphere-reliant as TS.
Unsurprisingly, given the studio's track record, audio is outstanding. Apparently, the myriad growls, purrs, whistles, hisses, clicks and chimes that musicalise every journey, were hewn from over 120 hours of recordings (Here's an example of AP's sound gatherers at work). Because Electric Train Heating subtly influences engine note, it was necessary to record two sets of engine sounds – one with ETH on and one with ETH off. In a genre where devs frequently recycle and substitute sound effects, the commitment to audio authenticity is startling.
Given that the simulated four-cylinder English Electric 4SRKT Mark II warbles so mellifluously, it's mildly disappointing it isn't more audible from the prototypically-well-soundproofed cab. Yes, I could drive with my head out of the window all of the time, but that seems a tad undignified.
And if I drove with my pate permanently in the slipstream I wouldn't be able to...
A) Read the ammeter (Pushing the traction motors too hard can overload them, causing them to shut down )
B) Enjoy the bespoke condensation effects
C) Keep a note of my splattered fly tally (Drive in the summer and, now and again, unfortunate insects explode on your windscreen)
The 205 Pack might simulate fly fatalities and have what it takes to revive a lapsed love like-affair with TS2016, but in one area it does disappoint. My crest visibly fell on discovering that I couldn't play any of the six "highly realistic & engaging" included scenarios - all of which utilise either the DTG Brighton to London or DTG South London route – because I didn't own some of the following dependencies:
AP Class 365/465/466 (Met-Cam) Sound Pack
AP Class 456 Electric Multiple Unit Pack
DTG BR Class 73 'Gatwick Express'
DTG BR Class 421
DTG BR Class 423
DTG European Community Asset Pack
DTG Southeastern Class 465
Thomson Interactive Class 455
While I'm perfectly happy to beetle about in Quick Drive mode until less demanding user-made scenarios begin appearing, a few structured challenges wholly reliant on route assets would have been most welcome.
* * * * *