The Good Life to try crowdfunding again on Kickstarter
Didn't land on its feet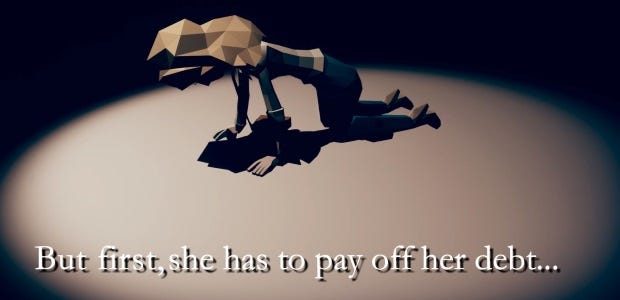 Maybe it was overly optimistic, but I was sure that surreal shape-shifting, debt-repaying, murder-sleuthing adventure The Good Life would have been funded within a week or two of its announcement. Deadly Premonition and D4 director Suehiro 'Swery65' Hidetaka is a bit of a wild-card admittedly, but he's never less than interesting.
Sadly, 'interesting' isn't enough of a hook to raise $1.5m, and so the Fig campaign has officially failed, falling short of $700k after 40 days of funding. It's not the end yet, though, as plans are being drawn up to try once again on Kickstarter.
It was set to be a quite ambitious project; a collaboration between Swery's own White Owls team, with development support from Japanese studio G-Rounding and Republique team Camouflaj. As the campaign drew on, they tried revealing more and more of the game's concept, along with promising a parallel version where the townsfolk transform into dogs at night instead of cats. Sadly, not even doubling up on the number of pets represented was enough.
Detailing the failure of the Fig campaign in an extended chain of tweets starting here, Swery points to a variety of reasons why he believes the crowdfunding effort fell through, not limited to but including early leaks giving a misleading impression of the game, further compounded by the studio not making the true scope and nature of the game clear, leaving many under the impression that it was to be a small-scale game with exclusively 2D art.
Beyond his reasons given, crowdfunding for games has become a struggle lately for many studios, especially on the newer platform, Fig. Even Julian Gollop's X-Com'y Phoenix Point barely scraped past its first of many stretch goals. Despite some astounding games being crowdfunded in recent years, Kickstarter fatigue seems to be a real thing. This, compounded with Swery's scattershot reputation (as charming as Deadly Premonition is, it was a technical train-wreck) were likely contributing factors.
I'd love to see The Good Life succeed eventually. The life-sim and debt-repayment concepts might strike a little close to home for some, but if Animal Crossing can get away with making paying off a mortgage into a compelling game, then there's clearly got to be some appeal to it. The additional layers of nocturnal shape-shifting and murder mystery, paired with the almost papercraft-esque low-poly art gave the whole thing a unique flavour that tickled my fancies in new and unusual ways.
The Kickstarter will apparently have a lower funding goal due to as-yet-unnamed partners chipping in on development costs, but has no set starting date yet. We'll be sure to keep you posted once the new campaign goes live.