The Humble Jackbox Party Bundle includes too much party for you to handle
Party on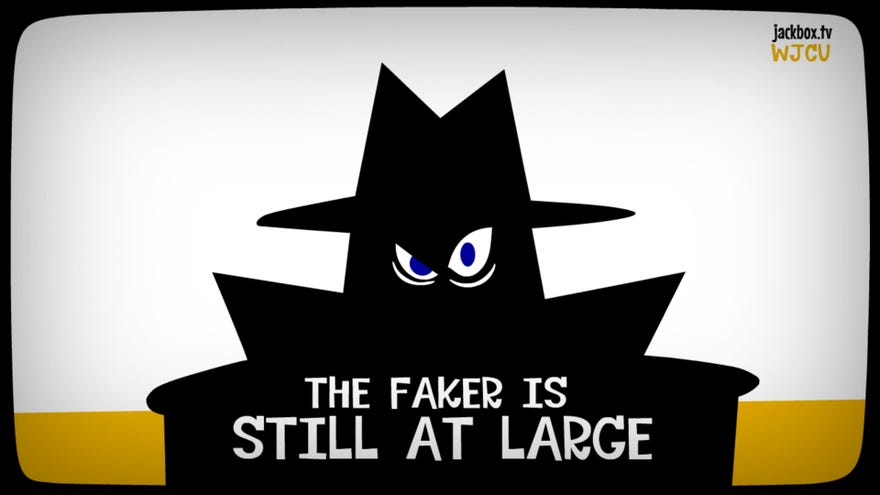 If you've never played any of the Jackbox games, Humble are offering you the chance to fix that for cheaps. You can pay what you want to get Fibbage XL and Quiplash in the Humble Jackbox Party Bundle, which will both reveal that your friends can be way funnier than you ever gave them credit for.
They're party games that everyone plays via their phones, and while you're supposed to play them in the same room you can make most of them work using remote screen sharing. If I were you though, I'd pay the $12/£9.40 needed to pick up every Jackbox Party Pack apart from the latest one, then gather some friends together so you can play Fakin' It. Fakin' It is ace.
The 'pay what you want' tier also nets you the first two "You Don't Know Jack" quizzes that preceded the party packs, though I haven't played those because quizzes make me sad.
Fakin' It is in Party Pack 3, and gets everyone to simultaneously respond honestly to a question. EXCEPT one of you is an impostor who doesn't get to see what's been asked, so they just have to take a random guess at an appropriate response. It's an instant heady mix of hilarity and flabbergasted revelations about what your friends are really like. I can still remember the disgust on someone's face when she found out that everyone she was sitting with hadn't washed their towels in a fortnight.
It's split into rounds where you have to react in different ways, and the best one involves pointing at other people. I once refused to believe that my friend thought I'd be the person in the room most likely to freak out at the sight of a mouse, letting the faker waltz to victory because the non-fakers need to unanimously decide who it is.
I'd say Quiplash (tell funny jokes), Fibbage (tell funny lies) and Drawful 2 (draw funny pictures) are around the same calibre as Fakin' It, while all the other games in the Party Packs are worth a look but don't have nearly the same staying power.
The Humble Jackbox Party Bundle runs until 6pm British time (10am Pacific) on August 28th.