The Long Dark's Story Mode Gets First Trailer
Spring 2016 release date.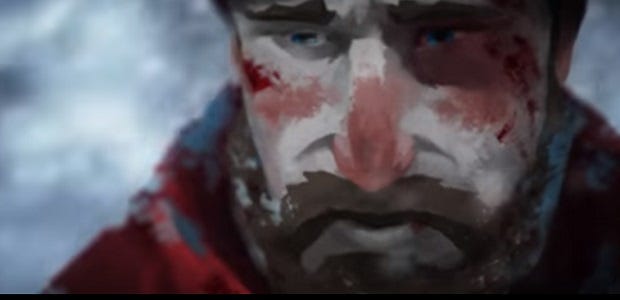 The Long Dark [official site] is one of our favourite survival games. John has been playing it on a regular basis and enjoying his treks through the cold wilderness a great deal, despite the daft difficulty levels, which either see him starving to death within minutes of a gargantuan feast, or present no real challenge at all. That he has returned to the game so often is testament to the strength of the hunting, gathering and cowering.
The upcoming story mode might provide a more balanced experience. The first part of the first season will be available in Spring 2016, when the game leaves Early Access, and there are details and a trailer below, as well as a peek at the latest additions to the sandbox mode.
The beardy man is probably bush pilot Will Mackenzie, one of the two playable characters in the story's first season. That would make the narrator Astrid Greenwood, a doctor. Both are living in the aftermath of the "First Flare" event which was responsible for the current state of the world, and they'll have to deal with all of the sandbox's usual food and shelter issues as well as coming face to face with other survivors. The story also adds The Aurora, which you can see at the end of the trailer there. I'm going to assume it's basically the Northern Lights except made out of magical space wolves.
There are a lot of wolves in The Long Dark.
As well as those two features - other survivors and The Aurora - the story mode will have...a story. There will be new areas to explore, as well as those available in the sandbox, and the existing mechanics will be "tuned for narrative gameplay".
At launch, The Long Dark will include both the first part of Season One of Story Mode, and the Sandbox Mode. The Story Mode content launching in the Spring will amount to 3-4 hours of gameplay, in addition to the freeform Sandbox mode which offers 100s of hours of open-world exploration-survival gameplay.

The remainder of Season One will be released in additional 2-3 hour episodes over the course of 2016, until the Season One story arc is complete. The expected play time for the entire Season One Story Mode is between 10-12 hours.
Hinterland have certainly made a sad and beautiful world, and The Long Dark conjures up an atmosphere quite unlike the majority of its peers. I'm keen to see more of both the sandbox and the story, and I won't have to wait for the former. The final update of the year has arrived, bringing a new area to explore, a flare gun, rope climbing and more.
Lovely.