The Long Journey Home gets easier in 'Story Mode'
Blast off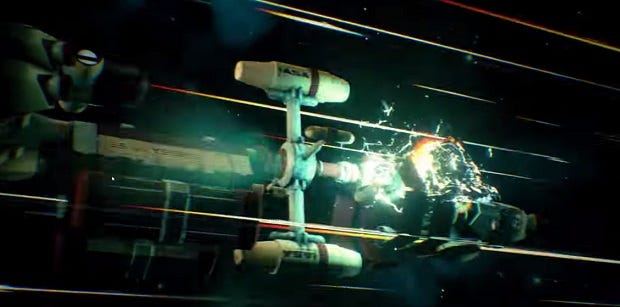 Splendid space exploration game The Long Journey Home [official site] has got a new 'Story Mode' with dialled-down difficulty after player feedback suggested the game was just too damned hard for some.
Developers Daedalic say that the new mode adds more resources, makes your planet-exploring Lander craft more resilient, and improves targeting in combat.
Here's what they said about the update, which was made in response to a "number of issues" about the game's difficulty:
"Story Mode is aimed primarily at new astronauts and those without the time to fully embrace the chaos and challenge of the universe, who prefer exploration over survival, or who would prefer an easier introduction to space travel before facing the challenge of Adventure (formerly Explorer) Mode, and Rogue Mode, where failure means death.

"Key Story Mode changes include a far friendlier galaxy, where resources are more valuable and effective, and some of the tougher challenges early pioneers have experienced are toned down. More planets feature Earth-like conditions, with less extreme conditions on both high and low gravity worlds. The more dangerous galactic weather hazards are also toned down. In addition to being more abundant, resources are also now worth more on the market and more effective for repairing and refuelling the ship."
If you missed it the first time around, then The Long Journey Home is a game about steering your ship and small crew back to earth, meeting lots of friendly (and not-so-friendly) aliens along the way. Part No Man's Sky, part FTL, part Star Trek: Voyager, it plays a bit like a series of mini games in space.
Adam enjoyed the game overall and played through the six-hour campaign multiple times while acknowledging that the game's difficulty, and the constant reliance on repetitive tasks to maintain your equipment, was a little frustrating. Here's what he thought:
"I'd describe The Long Journey Home as a difficult game, given how hard it is to get home, but it's an oddly pitched difficulty. I'm more likely to peter out than to explode in a blaze of glory or perish in a calamitous misadventure.

"Simply put, getting home is hard work and even though there are loads of amazing adventures to be had along the way, you'll also be carrying out a lot of maintenance. Think of this more as a warning than a condemnation because I'm still enjoying the game after thirty-five hours of playing."
Overall, it seems like a good move from Daedalic, and they're monitoring the game's Discord channel for any further feedback.
You can view the full change log in this post. If the changes convince you to splash the cash, then the game is currently available for £30.59/35,99€/$35.99 on Steam, GOG, and the Humble Store.
Disclosure: RPS columnist Richard Cobbett wrote the words for The Long Journey Home.