Free Crawling: The Mighty Quest For Epic Loot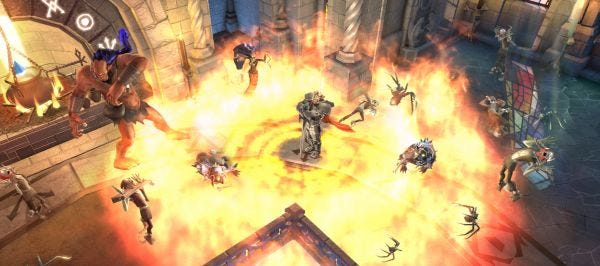 We've currently smuggled Adam out of the country to investigate all things new, French and Ubisoft, but to scoop him ourselves, they've just announced The Mighty Quest For Epic Loot. It is, and this is one to get your head around, a free-to-play asynchronous dungeon crawler/tower defence. And it has a brilliant name. There's an announcement trailer below. It is very silly.
Coming from the team at Ubisoft Montreal - they who usually bring us things like Prince Of Persia and Far Cry - this is a multiplayer crawler with elements of tower defence and money-sucking decorations. There will be two ways to play - looting or defending. Players can create castles, and then fill them with traps, minions, then make them available to other players. Players who will then attempt to battle their way through into the central treasure room, and loot loot loot. Castles you've created will earn you rewards as other players die within them, and of course you'll be gathering bonuses when you succeed in other people's castles.
It's not quite there, but the CGI trailer has clearly learned some lessons from Valve's TF2 output. I laughed a few times! AND I HATE LAUGHTER.
The "Go fuck yourself" was a bit of a surprise, eh?
The site claims it's open to registrations for the beta, but that appears broken at the moment. Although the 500 page I get when trying to register is pretty funny:
It sounds like a promising idea. One that will likely succeed or fail based on how it tries to make its money.