The Norwood Suite accepts guests from 2 Oct
Beeeeee our guest!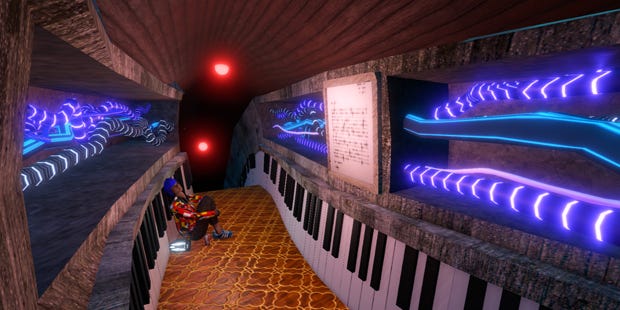 I thought the style looked familiar! The Norwood Suite [official site] is the new game from Off-Peak creator Cosmo D. Off-Peak, you might remember, is the surreal train station experience Alice and I played which I'd tend to describe as an experiential collage more than a game, if you're into that categorisation. You should definitely play it if you're looking for a curious project for the weekend - it's free.
The Norwood Suite seems to have a similar style and is set in the same universe but is about a secluded, mysterious hotel filled with secrets. It now has an official launch date too so Alice and I can pencil in some time to play it simultaneously over the phone! October 2, if you are thinking of doing the same with your pals...
I love games like this - densely packed gift bags with all manner of weirdness jammed in, plus textures that make me feel very... trapped in a dream mod? I think the game was expected back in spring of this year but has ended up as more of an autumn thing.
"Peer into the lives of the hotel's guests and staff, explore and interact with surprises behind every door, and piece together a non-linear narrative that rewards your curiosity. The Norwood Suite features surreal art design, as well as an original atmospheric score, composed by Cosmo D, that's integrated directly into the game world.
I'm also tempted to say that that description reads like Twin Peaks meets The Furchester Hotel. Furchester Hotel is nowhere near as good as Sesame Street - THERE I SAID IT - but it is set in a nonsensical hotel. Here is an episode:
It'll be on Steam, Itch.io and GOG priced at $9.99.