The Price Of Defiance: Trion Worlds Hit By Big Layoffs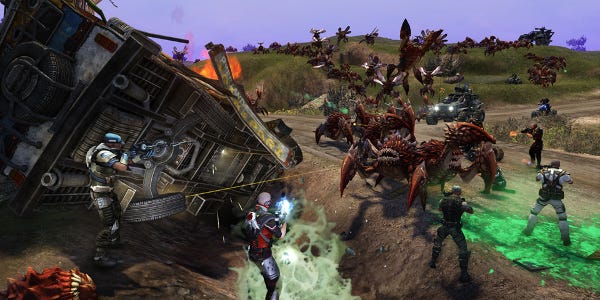 At this rate, Trion Worlds might soon be forced to change its name to Trion Islands, or maybe Trion Small Yet Charming Spanish Getaway Vacation Villa. After the Rift team got hit by a major round of layoffs late last year, Defiance's band of trigger finger scratchers has taken a possibly even bigger hit. While the exact number is unconfirmed, many reports place the total at around 100, which is a worrisomely not-small portion of the entire company. For its part, Trion has confirmed the unfortunate turn of events, but it's been illusive otherwise. The company's statement is after the break, in addition to a few further details.
First off, here's what Trion had to say on the matter:
"To best position Trion in a rapidly changing industry, we have reorganized our teams and are expanding our free to play offering. With Defiance, we delivered a great game that more than one million gamers registered to play and continue to enjoy. As we progress from launch to ongoing development of the game, we are adjusting our staffing levels to deliver new content and improved features. RIFT, and our other titles in development, were unaffected by these changes. We are very much looking forward to the free to play release of RIFT and are excited by the other new titles currently in development."
Meanwhile, sources speaking with Kotaku alleged that both Defiance and Rift's Storm Legion expansion didn't quite carry their weight, so a surprise chopping block party was the only answer.
But hey, Trion's at least got a couple good things ahead. Rift's right on the cusp of going free-to-play, and that tends to attract migratory shark frenzies of new players, if not necessarily hold onto them for too terribly long. Also, Defiance's TV show got renewed for a second season. I hear it's kind of alright? Do any of you actually watch it?
So extremely sad news, but there's still some hope. Best of luck to all who got laid off. Things might look bleak, but this industry creates new jobs at nearly the same rate it destroys them. Case in point: this list of available industry jobs (put together largely by freelancer Alex Rubens) will probably be of some use to you.