The Rift: Storm Legion Demon Is Quite Large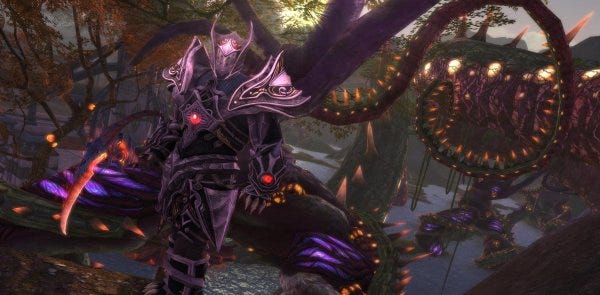 I'd be lying if I suggest that I am posting this for any other reason than the demon. He's a large demon (not pictured, but damn, look at that dude!), and he's not happy. Apparently he's miffed because he overslept. I know how that feels. And so that's the premise of the Storm Legion pre-order trailer, which you can see below. You might also be able to infer that the Rift expansion is now available for the pre-purchasing masses, who will no doubt be aroused to learn that they will not only secure themselves a fight with Ol' Sleepy, but they also get early access to "Exodus of the Storm Queen", which is one of the new dungeons in which exotic and unlikely beasts are waiting to be clubbed for their loot. You also get an "exclusive cape." Presumably a digital one. If it were a real cape, all silky and flowing, then they might have been on to something. I'd wear it whenever RPS had an exclusive. Like today! Yes.
Anyway. Storm Legion is out on November 13th.


You can play the first twenty levels of Rift for free, by the way. "Rift Lite", they call it. I'd have called it "Wee Rift". Much better.