The Secret World: Factions, PvP Details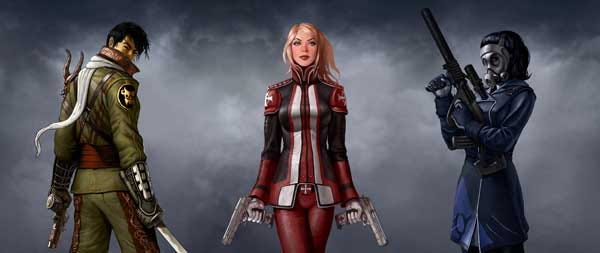 Yesterday we spoke to The Secret World project lead Ragnar Tørnquist. He revealed a whole bunch of new information about the urban fantasy MMO of monsters, secret societies and mysterious evil, which is now sounding increasingly awesome: a (sort of?) real-time combat system for PvP, a subterranean city for the secret societies for fight over, and a mutual war against evil and darkness in the real world. Along with the three factions he's revealed a little about their HQ buildings, the share social hub for each faction, and the PvP impact of guilds, or cabals as they will be known. More promising, perhaps, is an MMO that eschews traditional vertical structure of RPGs, opting for a "horizontal" advancement that will allow people to contribute to higher end PvP stuff from the very start. Yes, there's every reason to believe that Funcom might finally be on the right track. Read on for our chat with Tørnquist, or go here for our previous interview.
RPS: So I want to avoid covering the same material we looked at the last time we spoke, so let's skip straight ahead to your most recent announcements...
Tørnquist: So we revealed a lot of new information at PAX, we talked about the factions, Illuminati, Dragon, and Templars, and we also revealed some of the PvP stuff. We also have the first screenshots of the game. [Posted here - RPS].
RPS: So you've got this personality test thing on the website to suggest which faction - out of templates based roughly on secret society myths of the real world, Templar, Illuminati and Dragon - people are suited for, and the entire internet seems to have come up as Dragon, or at least ended up joining Dragon at the end of the test. Does that mean you've diagnosed the internet as an agitator-anarchist?
Tørnquist: Well from testing in the office we had no idea that some many people would end up as Dragon. Actually though we only really understood what Dragon was about recently, it was the most undefined of the factions until just a few weeks ago. I think the Templars and the Illuminati are already more of a known quantity: people have already read Dan Brown or read Illuminati books, and seen the ideas of the societies in films, so we thought people would want to join up with those sort of know quantities. But I think the mystery of Dragon is appealing to gamers, they can put a little bit more of their own imagination and ideas into that space. Of course they are Asian too, and gamers are notoriously interested in all things with an East Asian vibe to them. I don't know if you've seen the art that we put out of the three factions, but Dragon is the guy with the Katana, he looks pretty good. Of course if you took the test as a personality test you'd probably put yourself a in a good light, and Dragon answers are possibly a bit more "nice guy" answers.
RPS: They are more individualistic. I came up as Dragon on the test, but actually I chose Templar, having read the descriptions. Powerful self-righteous fighter types is more my game style.
Tørnquist: The crusader type, eh? People did tend to choose the one they landed on, but I think as we move towards launch we'll see people gravitate to other factions as we release more information. The Dragon are interesting so far in that they have been portrayed by us as protectors of nature, but ultimately they are quite anarchic, they are agitators, and they are more complex than the other factions. Actually, when we did a Q&A at PAX the spread for journalists joining factions was quite even.
RPS: So beyond cosmetic stuff how will faction influence how you play?
Tørnquist: Well they are not classes or races or anything, so they're not going to give you different skills, because we don't want to give the factions any advantages against each other in PvP. There will however be some missions that are specific to the three secret societies, different quests and tests, different items - there will be elements that make them feel very different to each other. The headquarters of each secret society will play a very important role. The headquarters will be very different. The Templars are in this huge stone building in London, because they are the least secret of all secret societies, they're very much out in the open. The Illuminati are in a hidden underground facility in New York, and the Dragon are in this very innocuous-looking monastery. Inside the secret society you will have access to vendors, social spaces, mentors, and depending on your standing with the society - you start as a novice and graduate to the top - you have access to different vendors and so on. These will differ for each society.
But then there is the Hollow Earth. This is a place where the societies are fighting for control of resources. It's a realm called Agartha, where the factions are vying for control. There's a resource called anima which is used in crafting and upgrading weapons, as well as other things. Players will battle for "cells" which are areas to be contested by players, so that you can get anima and get access to other areas. This provides a reason for conflict. Down there what separates a Dragon from a Templar is clear - the different uniform they wear for the battle.
RPS: So the Hollow Earth thing provides the factions with a place to fight it out in open war, because they are hidden in the "real" world, which is where the PvE and general questing takes place?
Tørnquist: Yes, because on the surface everyone is sort of on the same side, because they are fighting evil. They all work together to save the world from impending doom. However, the factions each want to be the one left standing when the smoke clears, and the way to do that is to control the resources in Agartha. The factions are fighting each other for real down there.
RPS: What's the PvP going to be like? What's it like to play?
Tørnquist: Cells basically have a control points that you as a team will capture. Teams will form from cabals, and these cabals, like guilds, can only contain members from a specific faction. So you will be in a Templar cabal, for example, and have particular cells under your influence. Cells can only be controlled by Cabals, and when they control them they get access to anima, or other benefits. They can build turrets, traps and other defences to protect them against other Cabals, but ultimately you will need to defend it all the time, or at least regularly, to keep it.
The combat we have shown at PAX, and unfortunately I can't show that now, but it's very fast paced. You have to keep range, you have to keep firing, it's action-packed, unlike other MMOs - timers on powers will be very short. It's going to have an emphasis on your character abilities, more than your player abilities, but obviously there will be some element of skill in how you use those abilities, your tactics and movement.

RPS: Is the more flat structure you're talking about - this "classless MMO" stuff - going to make things easier to get started in PvP? I mean in vertical level structure MMOs you can't contribute to PvP until you've done a lot of the levelling. Am I going to be able to come into The Secret World and then quickly be able to help out my veteran buddies in combat?
Tørnquist: Absolutely, yes, because the things you start out with will still be effective later on. Of course players who have been playing for a long time will be more powerful, but the main advantage of being a player who has played for a long time will be that you have access to more different abilities, you have a wider range of options than a beginner. You can respec as a tank one day and a healer the next. But just playing for a short time will will give you enough to help out people who have been playing for a long time. You won't be able to do everything, of course, but you will be able to do a few things quite well.
The advantage of the cells as PvP locations is that some of them will be higher level, in that they contain "relics" which give out more bonuses, those might give the long term players, more skilled players a target, while new players might just concentrate on other, lesser cells. But everyone will be able to get involved in PvP from the very beginning.
We previously spoke to Tørnquist about The Secret World here.