Time-looping murder puzzler The Sexy Brutale is out
Howtostopwhattheydun?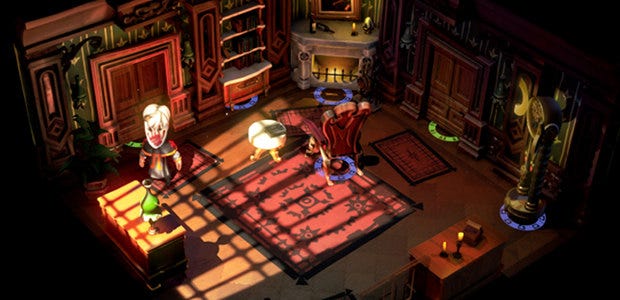 Every day, the guests of casino mansion The Sexy Brutale are elaborately murdered by their hosts. Every day, the guests are reborn and murdered anew. Every day is the same day. Well, until we start meddling. I really groove on the sound of time-looping murder mystery The Sexy Brutale [official site], where each day unfolds in real time with the same murders. The mystery isn't who's causing them but how to stop them, figuring out how across days how to thwart the impending murders. Groundhog Day but less intent on pashing with Andie MacDowell. And now it's out, launched yesterday.
So! Something strange is afoot at The Sexy Brutale, and players wade in as a priest who's not entirely present. Sneaking, eavesdropping, investigating, and meddling, Lafcadio Boone will need to figure out how to stop the many murders while dodging supernatural powers. Events repeat the same every day, characters following the same routines, so his knowledge builds up and if he muffs up a murder, hey, he can always rewind time or start the day over. Along the way, he gains new skills from solving murders too. In concept, this sounds splendid.
It's your damn fault, reader, that I am writing this rather than playing and seeing for myself right now. Our John tells me The Sexy Brutale is on his list so perhaps he'll tell us all Wot He Thinks. Me, I'll give you your damn content.
The Sexy Brutale is out for £14.99/19,99€/$19.99 on Steam and GOG. It's made by Cavalier Game Studios with Tequila Works.