The Sim(ian)s, Free: Gun Monkeys Free Weekend
Free-kend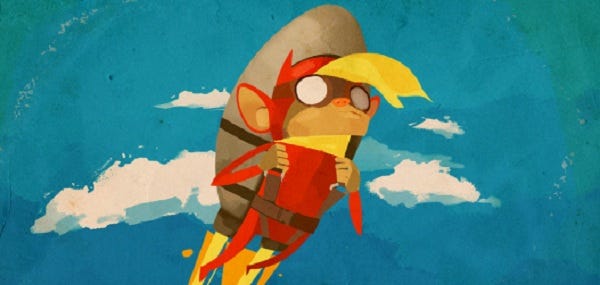 It's no Monkey Tennis but Size Five's Gun Monkeys has found its fans. It's a procedurally generated, physics-based 1 vs 1 deathmatch game and, being a multiplayer sort of thing, it is hungry for new players. To entice fresh monkey-handlers, Size Five are allowing people to play for free this weekend, on Steam, and reducing the price of the game by 50% during that time. That makes the price £1.99 and that's for two copies of the game so you can pass one along to a friend. And then kill their monkeys. I haven't played it yet but I may jump in this weekend. Video below.
While The Swindle is on hold and we wait to hear what Size Five do next, I'm crossing my every digit in the hope that it's another Ben and Dan adventure. Yes yes yes, new things are good. But let us not forget the brilliance of those games. A few years ago, I was inspired to draw some character sprites in an effort to make my own point and clicker because I enjoyed Ben There, Dan That so much.
I drew a soggy pirate with two wooden legs and then ate some biscuits instead. I am very bad at making games.