The Sims 4 gets first-person camera view, new expansion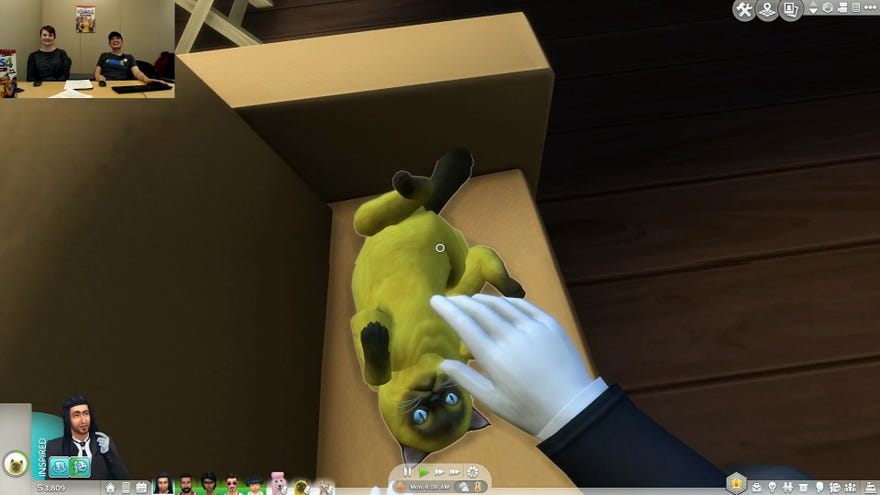 EA have added a first-person camera view to The Sims 4, giving the opportunity to watch lives unfold from inside characters' heads. See through the eyes of an idiot guided by wonky logic and incomprehensible whims and desires, watching their hands touch and do things you know are foolish. And in the game. Oh, and a new expansion is out today.
Following this week's patch, Simmers can enter their Sims' heads by press Shift + Tab. You'll watch them do what they do, whether you want them to or not. Oh god, this is too familiar. Get me out of this meat prison.
Cheery RPS fanzine PC Gamer clipped this clip of developers observing first-person petting:
The update also brought new ways to shape the world and buildings our idiots inhabit. New terrain tools let players sculpt the landscape, lots no longer must have the same foundation height so you can build more fancifully, basements can now go four levels deep, and more.
Heck, have a new way to live too. Ahead of the Get Famous expansion launching later today, it's added 'Style Influencer' as a new career.
"You'll start off small by observing fads and reporting on the latest trends," EA explain, "but it won't be long before you're defining new looks that are worn by Sims all around town, or giving makeovers to help other Sims look on fleek."
As for Get Famous, it's due to hit Origin in a few hours for £35. It lets our sims, y'know, become famous: getting fans; living glam; all that.
See the patch notes for more on everything, including Millie Bobby Brown out Stranger Things with a 'Positivity Challenge' event.