The Sunday Papers
Read more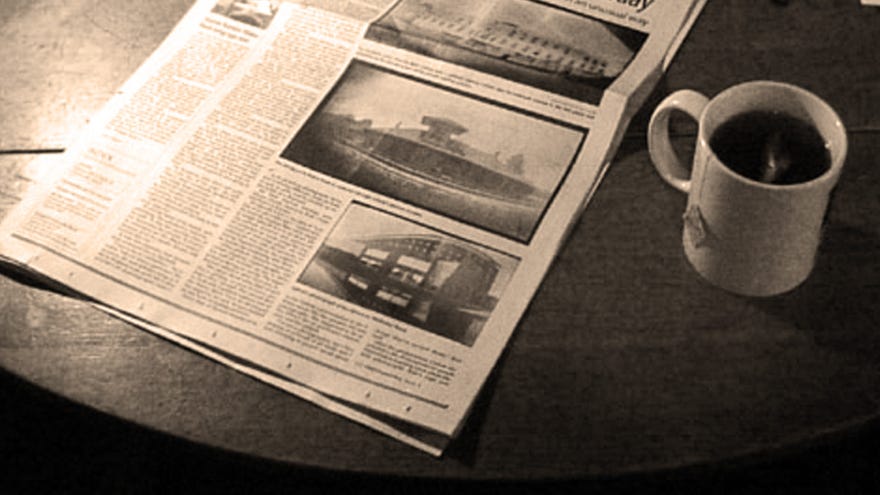 Sundays are for entering the 6th day of sleep derivation prescribed by your NHS insomnia clinic. I can see the logic, but not much else through these bleary eyes of mine. Luckily I've already rounded up the best writing about video games from the past week.
The most important piece this week (and beyond) is clearly Cecilia D'Anastasio's on Kotaku. She's been investigating the culture of sexism at Riot Games for half a year, and spoke to two dozen current and former Riot employees who "say the company's culture is steeped in sexism". The volume of sexist practices cited here demonstrate beyond reasonable doubt that these examples aren't "explicitly opposite" to Riot's culture, as they claim, but the substance of it.
Among the people we spoke to, three women described being groomed for promotions, and doing jobs above their title and pay grade, until men were suddenly brought in to replace them. Both male and female sources have described seeing unsolicited and unwelcome pictures of male genitalia from bosses or colleagues. One woman saw an e-mail thread about what it would be like to "penetrate her," in which a colleague added that she'd be a good target to sleep with and not call again. Another said a colleague once informed her, apparently as a compliment, that she was on a list getting passed around by senior leaders detailing who they'd sleep with. Two former employees said they felt pressure to leave after making their concerns about gender discrimination known. One former male employee said that Riot's "bro culture" is more pronounced behind closed doors, and hurts men too: One of Riot's male senior leaders regularly grabbed his genitals, the source said, adding, "If he walked into a meeting with no women he'd just fart on someone's face."
While we're on Kotaku, Jason Schreier reported on the details surrounding Filip Miucin's plagiarised Dead Cells review for IGN. Miucin copied specific words and sentence structures from a video review by a YouTuber known as Boomstick Gaming. Schreier's article features an apparent additional example of Miucin's plagiarism from last year.
Boomstick Gaming's video went viral last night, skyrocketing to the top of Reddit and other forums. The similarities between the two reviews were too numerous to be coincidental, and many observers saw the incident as a massive outlet taking advantage of a smaller one. (Before this, Boomstick Gaming had around 11,000 subscribers on YouTube. IGN has over 10 million.)
Alex Wiltshire, occasionally of this parish, asked Indie devs about the duanting aftermath that follows the release of their games. I'm definitely familiar with that 'oh god, what now' sense of existential dread that follows a big achievement, and I've never spent over half a decade dedicated to anything.
"Whenever you work very intensely with something and then suddenly you're done, there's an emptiness, a hole; there's nothing driving you any more," says Villa Gorilla's Andersson. He says that during development he'd look forward to the end, playing more games, having a drink, sleeping in. "But more often than that you wake up feeling depressed. A lot of people just stay in bed for a couple of weeks."
For Places Journal, Will Wiles wrote about his relationship with Minecraft and architecture. Large parts of it are about Victorian reactions to foreign landscapes, but those are the best bits. The conclusion takes an odd turn that I largely disagree with, but I'll forever remember this as the article that introduced me to the word "gloomth".
After his ascent of Mont Ventoux, Petrarch wrote: "Thus having seen enough of the mountain, I turned my inner eyes towards myself." With Minecraft thus positioned as an improbable mirror, I came to realize I was not creating places that made me happy. Instead I was creating shadowy and forbidding places expressive of the depression that's dogged me since adolescence. It was an alarming thought: that I was confronting a dark state of mind given architectural outlet. But this was not so simple; it was not just that dark thoughts, in times of creative blockage or emotional stress, had led to dark places. I was in fact pursuing the "delicate equipoise of conflicting emotions," the ambivalence that Williams describes as characteristic of the sublime.
For Eurogamer, Jay Castello (whose name is probably above and below this post because she's our new weekend editor) argued that Blizzard needs to take action against homophobic and racist behaviour exhibited by many pro players, analysts and streamers. Agreed.
In his statement about the partnership with You Can Play, LA Valiant CEO Noah Whinston claimed: "For too long, the esports industry has been unfairly characterized as a toxic, unwelcoming environment." But it isn't an unfair characterisation. The esports industry is unwelcoming, and the actions of xQc, Thorin, MonteCristo, and countless others keep it that way, regardless of their intentions. Claiming otherwise is also part of the problem.
Also for Eurogamer, Astrid Johnson spoke to the activists behind Game Workers Unite UK. If you aren't already familiar with crunch culture and the mass layoffs that often occur once developers have finished a game, you should definitely read this. If you are, you should probably read it too. And either way, perhaps follow it up with Astrid's Soundbyte, a ten-minute audio story about unionising she produced for us earlier this year.
As well as legal representation, the trio want to employ a sort of certification system, one that could be given to games developed by studios with healthy labour practices. Jamie explained that "if you could imagine having a stamp on a game that says, 'This is [made by unionised workers],' it popularises the notion that unions are a good thing." There are already a few studios that Game Workers Unite are in contact with who are happy to go ahead with the move.
On Motherboard, Matthew Gault wrote about how the Dragonball Z tournament final at Evo 2018 was incredible. I have only seen the clips in his article, but: yes. Yes it was.
In Dragon Ball lore, Shenron is a dragon that grants wishes to whoever collects seven dragon balls. In the game, this plays out when the players perform certain types of combos. Performing a light attack combo rewards a random dragon ball. To get a specific ball, players have to hit target combo numbers. So a combo 30 to 39 hits long awards the third ball, a combo between 40 to 49 awards 4, and so on.

The balls are shared between players, but only one player can summon Shenron, the wish granting dragon. With all seven balls collected, the first player to max out their super meter to level 7 and perform a light attack auto combo that summons the dragon. It's hard to do and incredibly rare in tournament play. But it happened last night.
Last week I missed that the second issue of Capsule Crit had come out, so I'll fix that now. Nearly every piece in this issue is short and hard hitting, all are worth reading, but The Past is Not Enough by Thomas Loughney stuck out to me. It's (sort of) about What Isn't Saved, a game where you play as a neuroscientist attempting to digitally reconstruct your dead girlfriend.
Do you shave off the rough edges of your partnership? Do you squirrel away the hurt you've caused and received? And even if you don't, there is still not enough space to achieve an honest representation of what came before. What Isn't Saved haunts me. As text skitters and pronouns change — 'her' to 'my' (who do these memories really belong to?) — it looks at its player coldly. It hums with a grim, machine buzz. What you are doing is wrong. At the end, it's not memory that isn't saved — it's personhood.
Music this week is Ain't No Grave by Crooked Still. Tell me the Johnny Cash version is better. I dare you.