The Walking Dead: Michonne Starts This Month
Sharpen your sword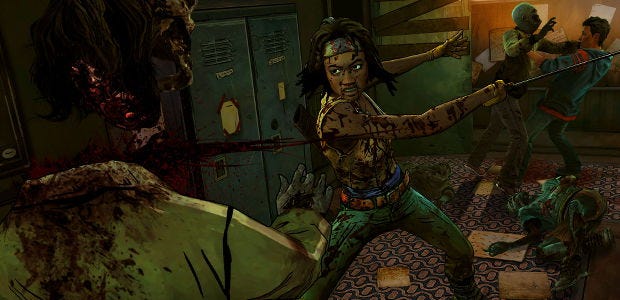 I've only a passing familiarity with Michonne from seeing a bit of the Walking Dead TV show, where she is one of the few competent characters, but I broadly understand she is, as the kids say, 'pretty dang cool'. Cool enough to get her own spin-off game and be voiced by Orange Is the New Black's Poussey, certainly.
The Walking Dead: Michonne [official site] will begin on Tuesday, February 23rd, Telltale announced today. All three episodes will run you $15 together.
This is a small side-story in the world of the comics, explaining what Michonne got up to during a gap in the story (between issues #126 and #139, if you must know). Here's how Telltale say it'll all kick off:
"In this premiere episode, 'In Too Deep,' Michonne joins Pete and his crew on the sailing ship The Companion as they cruise the coast for survivors and supplies. When a desperate signal for help draws them to a scene of horrific massacre, Michonne and the crew are lead further to the floating survivors' colony of Monroe, which may just be harboring the person responsible for the carnage."
Episode 2 will follow in March, then things will wrap up with episode 3 in April. That's a pretty tight schedule. Michonne was originally supposed to require folks own at least one episode of TWD season 2 to play, but it's apparently since gone standalone.
Here, have an old teaser trailer: