The Walking Dead's final season brings back Gary Whitta
S1 veteran returns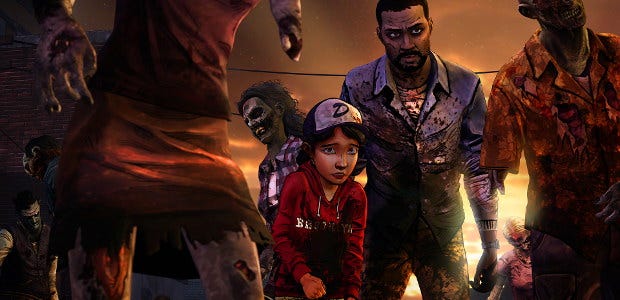 Veteran The Walking Dead storyman Gary Whitta will return to the episodic zombie apocalypse story 'em up for its fourth and final season, Telltale Games announced today. Whitta was story consultant on the first season and wrote its fourth episode, as well as contributing to add-on episode 400 Days, but hasn't been involved with it for years. The series has declined over the years so hopefully he might help reverse this.
Telltale have also announced they're working on prettied-up versions of their earlier Walking Dead games for a big console collection, though they haven't confirmed if those will come to PC too. (Update: doesn't look like it.)
Whitta will serve as story consultant on the fourth season.
"Collaborating with Telltale on the first season of Clementine's journey through the world of The Walking Dead was one of the highlights of my career, so reuniting with them to now bring her story to a close with this final season feels like a homecoming," he said in today's announcement. "Clementine has become not just one of the most compelling characters in the Walking Dead pantheon but one of the great video game characters of all time. I hope we're able to do justice to her and to her millions of fans. This one feels special."
Oh, I suppose you might also know Whitta for writing The Book of Eli and being the editor of cheery RPS fanzine PC Gamer.
He isn't a magic cure-all, mind. And the game will still be missing some notable folks from the first season. Jake Rodkin and Sean Vanaman played key roles as writers and directors, then they left Telltale to start new studio Campo Santo and make Firewatch. Other folks have moved on too. But hey, Whitta returning is an encouraging sign.
Telltale still haven't said much about this fourth season since announcing it would hit in 2018.
As for those improved editions I mentioned, Telltale today also announced The Walking Dead: The Telltale Series Collection for consoles. It'll contain all 19 episodes released so far, including "visually enhanced" versions of Season One, 400 Days, Season Two, and the Michonne miniseries. No word on PC releases yet but here's a comparison:
I've dropped Telltale a line asking whether or not these updates will also come to PC. You'd hope so? I'll let you know what I hear back.
Update: "We currently do not have plans to bring it to PC," Telltale tell us.
Disclosure: At a party held at the Campo Santo office, I once drank all their Baileys after the good stuff was gone. I know. Sorry Jake. Sorry Sean. I've not had a drop of alcohol in over seven months now and that's surely penance enough.