The Walking This Way Soon Dead: Telltale's Season 2 Dated
Day of Z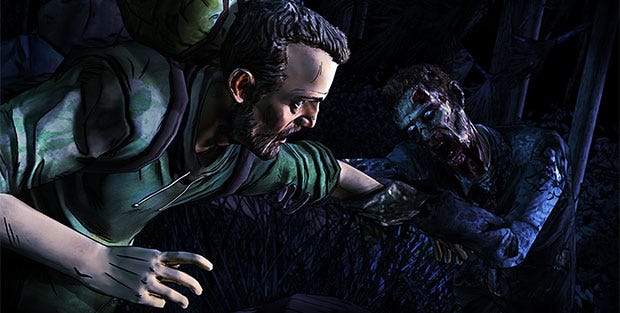 If you haven't finished Telltale's wildly acclaimed tragedy'n'conversation sim The Walking Dead but do want to know when season two will be released, I'll tell you right now. December 17th! That's when you can buy the season pass and play episode 1, for about 18 quid.
If you have finished it and want to know a plot synopsis too, I'll tell you below, hopefully safe from the innocent, spoiler-averse eyes of the non-finishers.

"Many months have passed since the events seen in Season One of The Walking Dead, and the zombie epidemic has been cured. Everyone is happy. There is no war, famine or disease. Nothing to kill or die for, and no religion too. Clementine is searching for a cake for her best friend's birthday party, but discovers that the local bakery has sold out.

What can an ordinary child do to obtain a Victoria sponge when the local supermarket is often just as poorly-stocked – and sometimes worse – than the bakery? As Clementine, you will be tested by situations and dilemmas that will test your money-saving and your instinct for shopping. Your decisions as to icing flavour and actions with regard to what candles to buy will change the story around you, in this sequel to 2012's Game of the Year."
Huh, that seems like something of a departure, but I'm sure no-one will object. The Walking Dead Season 2 is open for pre-orders now, if you want to save a pound rather than wait for reviews.
"Many months have passed since the events seen in Season One of The Walking Dead, and Clementine is searching for safety. But what can an ordinary child do to stay alive when the living can be just as bad – and sometimes worse – than the dead? As Clementine, you will be tested by situations and dilemmas that will test your morals and your instinct for survival. Your decisions and actions will change the story around you, in this sequel to 2012's Game of the Year."