The Witcher 3: Blood & Wine Vid Introduces Toussaint
It's so pretty!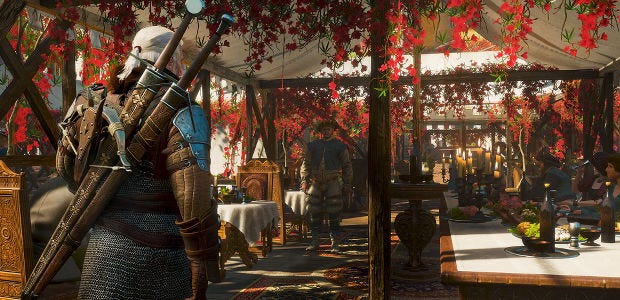 Geralt is heading off to Toussaint on May 31st in Blood and Wine, the second and final expansion for The Witcher 3 [official site], so here's a little tourist information video teasing what to expect. Rolling hills! Vineyards! The world's largest mountain! A city built upon the ruins of an elven city after humans went all kill-happy! Fine wines! Monsters in the wine cellars! Everything you could want in a holiday, except one of those neckstraps which holds your wine glass while you get sloshed at the tasting.
The main draw of Blood and Wine is Toussaint, a huge new region never visited in the game before. Based loosely on the south of France, it is awfully pretty! It also has a bit of a monster problem (quelle surprise!) Anyway, that video explains the whole setup and gives a peek at smaller newbits like armour dyes and new Gwent cards.
Developers CD Projekt RED say Blood and Wine will take about 30 hours to complete, and then that's it for The Witcher 3. No more expansions. And a long wait until RED bring us Cyberpunk 2077.