Thoth Turns What You Know About Arcade Shooters Upside-Down
You Thoth you knew shooters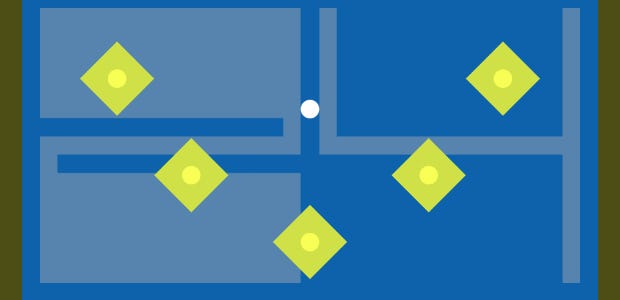 Thoth [Steam page] is an interesting exercise in deconstructing the twin-stick shooter from the developer who brought us 140. Jeppe Carlsen, who also works with Limbo and Inside devs Playdead, has come up with something fairly unique here that you might want to try out if you enjoy Games That Feel Out of the Ordinary.
It's not fancy-looking, nor is it a study on who the developer is as a person. There's no pseudointellectual babble about love and life and peace and laughing under the trees. But there is a lot of fun to be had, and a lot of weirdness, too.
For instance, you play as a small dot. You control said dot via the left and right sticks of your gamepad and take out foes left and right. Then a boss. Until your enemies start fighting back in important ways. Sometimes it's a projectile that you'll end up being killed by, most likely. Others they leave behind obstacles that feel a little more sneaky, but you'll still find that you've been caught by them a few times.
All of this from colored dots and surrealistic backgrounds. To look at the game you probably wouldn't even know what's going on, and that's part of why it goes so far to flip the genre on its head. Its minimalistic essence is quite interesting, as is its ambient soundtrack. Lends a bit of a creep factor, I'd say.
Try it out for yourself via Steam at 20% off right now for £5.59/7,99€/$7.99. It's on Windows and Mac.