The Legend Of THQnix: Dead Publisher Is Back, Kinda
More 7/10 action games please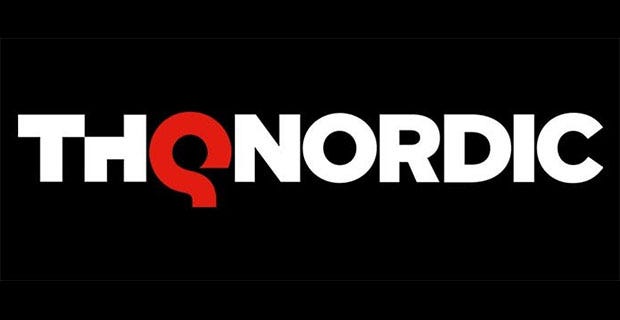 THQ is dead, long live NordicTHQ. The world's greatest purveyor of Good 7/10 Action Games sadly succumbed to bankruptcy and closed down in 2013, but most of its assets, studios and franchises were bought up by various other firms. Gearbox got Homeworld, Sega got Relic, Deep Silver got Saints Row and young Swedish publisher Nordic Games got Darksiders, Red Faction, Supreme Commander and a bunch of other stuff left among the ashes. As well as, it transpires, the THQ name. Nordic is now to be known as 'THQNordic'.

Not the most elegant of portmanteaus, perhaps, but I imagine it slips a little big brand familiarity into a name that otherwise might seem to imply a Scandi niche. Though they also claim that it's because too many people asked, to quote the press release, "Who the FUCK is Nordic Games?" when they bought Darksiders.
Write Nordic THQNordic, "While we take great pride in our Swedish roots and accomplished a great deal under the Nordic Games masthead, we decided it was time to incorporate the THQ name. Those key brands will continue to shape our business in a meaningful way going forward, and THQ Nordic represents a core approach of doing much more than "owning" a highly competitive portfolio of IP. We cherish them, and align them with the very best development resources to expand upon them with the level of experience that communities and established fan bases expect and deserve."
They also claim to have 23 games in development, 13 of which are unannounced, but "the majority of these projects are based on former THQ owned IPs and franchises." Darksiders isn't the only one they've got, see. Despite Sega taking Relic, that studio's Moreau-ish RTS Impossible Creatures is with THQNordic, for instance, as is Red Faction, Supreme Commander, Titan Quest, Full Spectrum Warrior, MX vs ATV, Destroy all Humans!, Summoner and Marvel Super Hero Squad.
I'll just bet a new Red Faction is in the offing alongside the much-teased Darksiders III. So how about a Titan Quest 2 or Supreme Commander 3 from THQNordic, then eh?
There is no suggestion, at least as yet, that any of these IPs' original devs have returned, but given that Nordic's public face is unconventionally friendly and casual (there's a touch of the Devolver to them), it's certainly not impossible that they'd strive for maximum goodwill. THQNordic do, however, already have two studios of their own: Grimlore in Munich and Rainbow Studios in Phoenix.
New logo too, as you'll see atop this post, which resurrect's THQ's familiar big, red Q.
Welcome back. Now let's have some more of those perfect 7s, please.