Total Warhammer 2 now sailing the Vampire Coast
Yarrr!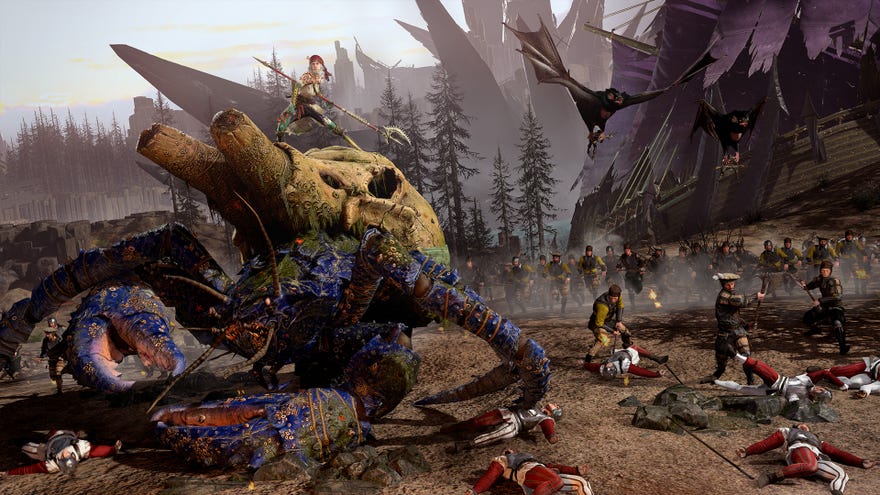 Consider your timbers shivered, quivered, spooked, and skeeved, as Total War: Warhammer II has set sail for the Vampire Coast. Crews of undead pirates fielding drowned zombies, giant crabs, seabeasts, shipwreck golems, and other such nautical horrors are the focus of the new expansion released today, Curse Of The Vampire Coast. Accompanying the paid expansion is a free update, revitalising the Vampire Counts faction, kinda sorta adding battles for when armies meet at sea (but not naval battles), and adding a new Dark Elf subfaction led by a salty fella called the 'Krakenlord'.
The expansion introduces the Vampire Coast faction, with four playable Legendary Lords all trying to tame a mighty sea serpent in the Eye Of The Vortex campaign. They'll need to find a magical meteorite harpoon, charge it with a magical shanty whose verses are learned by defeating rival captains, then finally battle and subdue the beast. Which is a cracking load of undead pirate nonsense right there. Their Legendary Lords get their own unique ships too. And there are treasure maps, golden artifacts unlocking new units... pirate times.
Curiously, this will not introduce naval battles to Total Warhammer 2, though it does add a weird half-way bodge. When two armies meet on sea, they'll politely disembark onto islands (or the surface of their Black Ark, for Dark Elves) to scrap. Weird, but so it goes. That's not a feature of the expansion, but rather the 'Aye Aye! Patch' accompanying it, also out today.
In the patch, Vampire Counts in Mortal Empires gain the ability to awaken ancient Arch-Lords for powerful bonuses, and their old Lords have been rebalanced too. Heinrich Kemmler has split off from the Counts to lead his own faction, The Barrow Legion, in Mortal Empires. And stuff is fixed and tweaked and so on. Also, if you don't buy the Curse expansion, you can still encounter the scary seadogs as AI-controlled opponents in Vortex and Mortal Empires campaigns. Plus that latest "free-LC" (ugh) fella, Lokhir Fellheart.
See the Aye Aye! Patch notes for more details.
Curse Of The Vampire Coast is out on Steam for £13.99/€17.49/$18.99. Lokhir Fellheart is free over there too.
I am quite taken with this ridiculous shipwreck golem: