Viva El Presidente! Tropico 6 announced for 2018
Dictate 'em up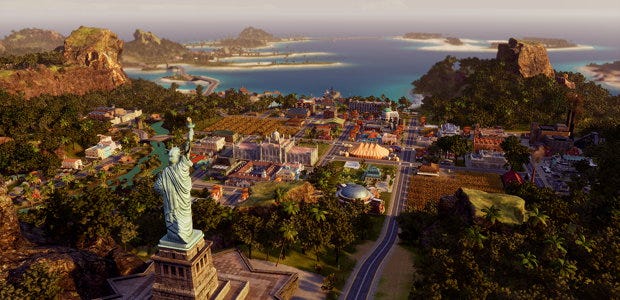 El Presidente will return to rule an island could-be paradise with Tropico 6 [Steam page]. Publishers Kalypso Media today announced the latest in the city-building manage-o-strategy series, which is due in 2018. A new developer is taking over from Haemimont Games, who had made Tropicos 3-5, bringing new ideas including expanding across archipelagos and, er, sending agents to steal monuments like the Statue of Liberty. Well, if you're going to run a wacky dictatorship, you may as well dream big. Here, have a cinematic announcement trailer:
Development this time is handled by Limbic Entertainment, whose past games include Might & Magic X: Legacy and Angel König - Spinnfischen in Deutschland. What's new with Tropico 6? Kalypso Media say in today's announcement:
"Tropico 6 represents a bold new lease of life for the much-loved series, with new developer Limbic Entertainment bringing exciting new ideas to El Presidente's highly-polished table, as well as a stunning new engine developed in Unreal Engine 4. For the first time in the series, manage extensive archipelagos, build bridges to connect your islands and establish new means of transportation and infrastructure. Send your agents on raids to steal the wonders of the world, including the Statue of Liberty and the Eiffel Tower. Customize your palace at will and give election speeches from your balcony, to win the favour of your subjects."
Along with singleplayer, it'll have competitive and cooperative multiplayer for up to four.
Tropico 6 is due out on Windows, Mac, and Linux in 2018.