Two Fortnite players sued by Epic for making cheats
Legal lols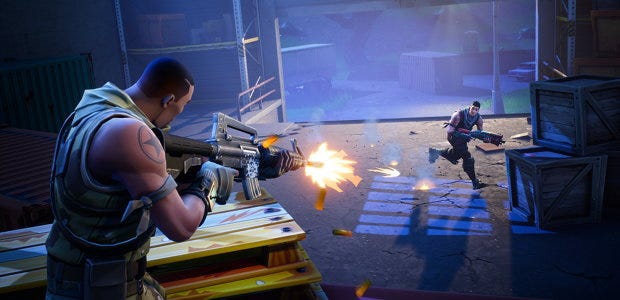 Epic Games, creators of survival-ish zombie game Fortnite [official site], are suing two players for allegedly making and using cheats for the crafty cartoon game, and for "ruining the game playing experience of others who do not cheat". TorrentFreak got a hold of two complaints filed in a North Carolina court, both of which suggest the developer is bringing out the big lawguns when it comes to hackers and cheatfolk.

Fortnite isn't a good game but it recently started a Battle Royale mode, a decision that attracted some quasi-controversy in itself, as well as some new players. Despite this new mode also being not that good, Epic became dedicated to getting rid of as many cheaters as they could find - a difficult task in a free-to-play game where, as a banned player, you can easily make a new account and start cheat-o-killing all over again.
Well, it looks like Epic have upped the ante, or whatever gambling analogy you want to use to describe sending in the lawyers. The defendants here are accused of violating copyright and the ever-vague "breaking the game's End User License Agreement". They're also accused of working for a website called AddictedCheats, where they give other players the ability to cheat in exchange for money. According to Epic, one of the defendants "writes code for the cheats, which the cheat provider sells to its subscribers" while the other "bragged that he is working on his own cheat to use in Fortnite".
On top of this the lawsuit claims they specifically target streamers with their hacky ways in an effort to get more attention and sell their warez. How do they claim responsibility during these livestreams? According to the legal complaints:
...by posting comments like "Yes I got them!" and "LOL I f*cked them."
So, aye, all in all it's a bit of a gong show. My favourite line from the complaints is point 52: "Nobody likes a cheater". Law is a strange faraway place of which we know little. But the defendants face a possible fine of $150,000 in damages, says TorrentFreak, the website who loves all this murky stuff and from whom I just plain stole this news story.
Thanks, TorrentFreak!