Watch-And-Chat: Ubisoft's E3 Shindig
What's in their magic bag?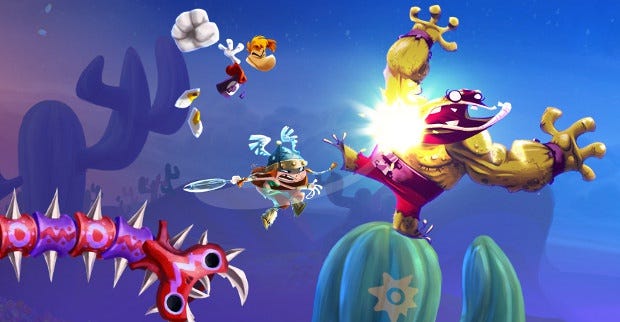 Closing out pre-E3 (as far as we're concerned) tonight are Ubisoft, with a press briefing coming up at 11pm here in Blighty. Ahead of the three-ring circus kicking off in earnest tomorrow, let's kick back and watch some video games. Ubisoft's E3 event always has spirit, bless 'em. We've already seen Assassin's Creed co-op and a little The Division gameplay today, so what else is to come? Enter, watch, chat.
Well probably see more of both of those, for one thing. They'll surely show off a spot of Far Cry 4, which one hopes will be less ghastly than the artwork we've seen so far. Where has that young Prince of Persia got to? Aren't we eternally due another new Tom Clancy game? Whatever happened to Rainbow 6 Patriots? And might we even see something actually new? On that front, let's all cross our fingers for more delightful curios being made by small teams on the 2D UbiArt framework. That's some of the most interesting stuff going on at Ubisoft lately.
Here's the stream on YouTube, and it'll be on Twitch too: