Urbane Living: SimCity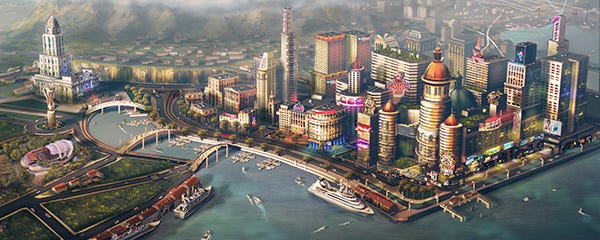 This is a treat. Ten minutes of SimCity, showing a city being simulated all the way from its humble beginnings as a field to its brash middle period as a nascent tourist trap. I'm unable to remove the frown that the social and online aspects of the game have stitched into my forehead, but I'm also unable to banish the smile that the multitude of systems at work brings to my face. Rather than being about plonking down zones and buildings, this SimCity tracks and models individual elements in great detail. That level of simulation fascinates me.
I tend to become bored when my cities reach a certain size. Now, instead of clicking to maliciously send natural disasters tearing through them I'm hoping I can just find ways to break the simulation. Traffic jams that perpetuate themselves endlessly. Sims whose lives become a limbo as they head to work and find themselves on a route that leads only to itself. Basically, I want to recreate this slice of brilliance.