v r 3: Pippin Barr's exhibition of digital water
Bodies of water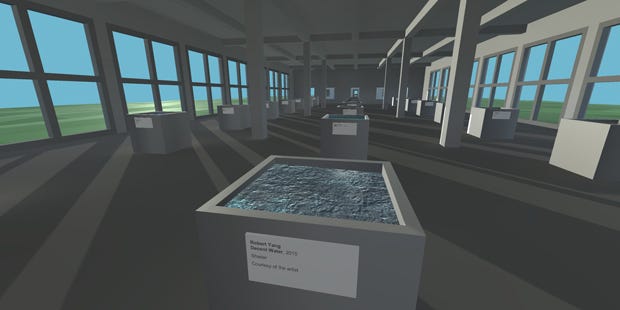 Pippin Barr's water collection, v r 3, is so lovely [official site]! You can download it for free and just wander round examining different people's approaches to designing and programming water effects in a museum-style setting. It's so pleasing as a snapshot of different game aesthetics as well as different people's ideas and work and style!
I made a video of my visit - it's a bit jerky as I found the walking speed to be slightly too fast for the space so kept overshooting the exhibits:
v r 3 is so called because it ended up being a continuation of sorts of the dev's previous gallery/Unity work in v r 2 (which you can see here) and re-uses some assets. It sounds like the idea is to revisit the space and the assets to curate different shows:
"The first exhibition (the one in v r 3 specifically) is going to be of water. I've been really interested in water technology in the Unity engine since a student waxed lyrical about how beautiful the "Unity Pro Water" is and demonstrated as much in a particular scene that was dark with neon lights reflecting in the water. It really is impressive water, and the fact that one can be impressed by water interests me. The fact it's call "pro water" is also quite hilarious. There's a lot going on, in short, around this idea of water as technology, water as something beautiful, perhaps water as something to be looked at (rather than incidental or scene-setting). So that's what this exhibition is going to be about."
In case you were interested in a related IRL thing, there's a Library of Water in Stykkishólmur, Iceland. It's a project by the artist Roni Horn in conjunction with the ArtAngel organisation. The building used to be a traditional library but it has been reworked to house a collection of water from different Icelandic glaciers. I've wanted to go see it for years - since seeing it referenced in the Roni Horn retrospective at Tate in 2009. Hyperallergic has some great photos of the space.
Oh, and for further glacier/water art, Katie Paterson set up a live phone-in so you could listen to Vatnajökull glacier. Only one person could phone in at a time so it was this personal, strange experience - lonely and urgent. You can listen to a sound file on her website - I think the phone number no longer works for this. She also has a work called Future Library where a forest of trees is being grown to provide the paper for books to be published 100 years after the work began.
The idea of libraries is fascinating.