Valheim details customisable difficulty settings and a sort-of creative mode
Perfect for builders, peaceful strollers, and hardcore survivors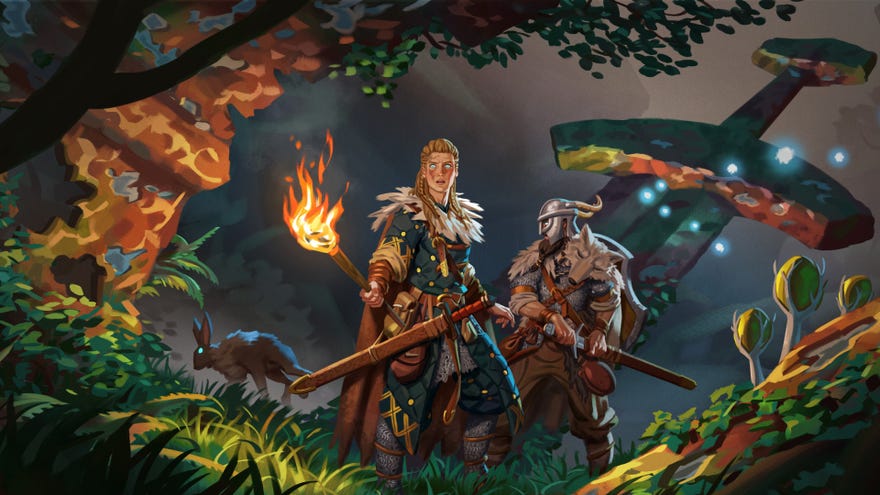 As one of the very best survival games on PC (according to us and RPS readers), Valheim is getting even more ways to play around in its Norse sandbox. Developer Jonathan Smårs took to Twitter yesterday to tease a bunch of difficulty presets and customisable sliders, letting you modify the Viking experience to your liking. The options include both a creative mode (a là Minecraft) and a more 'immersive' option.
The brief video that Smårs uploaded only skims through the options, but diligently pausing the video reveals the descriptions for each setting. You can also ignore all of the presets and simply create your own custom difficulty using the modifiers and sliders.
The presets include the difficulty options you'd expect. For instance, the Easy, Hard, and Hardcore options impact the difficulty of combat, the number of resources, and the frequency of enemy raids on player bases. But there are some funkier options present too.
Hammer mode seems like Valheim's version of a creative mode. Hammer turns on the passive enemies modifier, meaning baddies won't attack unless they're provoked, and it allows you to construct all buildings for free. It's not like the game's Viking builders need much help though; players have already constructed everything from The Lord Of The Rings' Eye Of Sauron to Shrek's shitter - excuse me, Shrek's powder room - in Valheim, but I'm excited to see if this newfound freedom on construction costs produces some even wilder structures.
Are your ready for hardcore mode in #Valheim? ☠️
..or do you prefer something more chill?

Note: Actual settings are not final! @valheimgame #gamedev #indiedev #gamedevelopment pic.twitter.com/9OtOxDpkAo

— Jonathan Smårs (@jsmars) April 17, 2023
The Immersive option ramps up the survival part of the game, turning off the map and portals, forcing you to really learn your surroundings. And finally, Casual mode also has passive enemies, easy combat, and anything else that will make your playthrough more peaceful. It's essentially the perfect mode for a virtual hike, letting you soak in Valheim's soothing blockiness.
Smårs confirmed that you'll be able to change the difficulty in existing worlds, as well as new ones, but it should be noted that the "Actual settings are not final!" yet. Right now, there's no word on when those final settings might be released yet either, but we'll be keeping our eyes peeled.
Ed and Liam chatted with Smårs last November as they checked out Valheim's big Mistlands update, which you can watch in the embedded video above. If you'd like to return to the world of Valheim - or jump in for the first time - you can either grab it on Game Pass, or on Steam for £15/$20/€20.