Valorant Closed Beta - How to get a key
Here's how to increase your chances of getting access.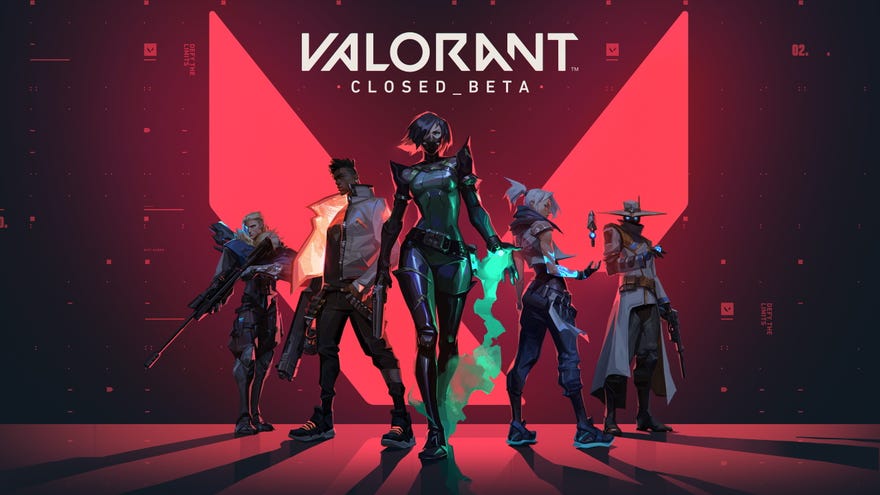 Valorant is Riot Games' first foray into the crowded competitive FPS market, and it's merging the considered, strategic play of Counter Strike with the hero-based antics of Overwatch to create a pretty compelling hybrid if you ask us.
This means it's a game which features high lethality and a high skill ceiling. Land a headshot and enemies will tumble to the ground in an instant, there are angles to hold, abilities to master, and you'll be heavily punished if you run around the map with abandon. It's not for everyone, but you might be surprised at how you take to the game's unique blend of tactical hero shooter.
It's also going to be free-to-play which means anyone can get in on the action, and with the full launch sometime in summer of this year, we predict it's going to be a huge affair. Could it take on the likes of CS:GO? For sure.
Well, if you wanted to test out the game before launch and see what it's all about, there's a Closed Beta arriving in April. Below we'll explain when it's launching and how you can increase your chances of gaining access with a beta key.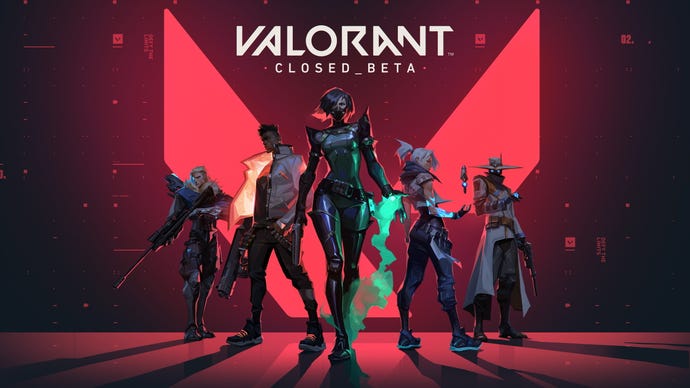 Valorant Closed Beta: How to get a key
Right, let's break down everything you need to know about the closed beta.
Valorant Closed Beta Release Date
Valorant's Closed Beta will start on April 7th, 2020 and will be limited to players in Europe, Canada, Russia, Turkey, and the United States. There is a possibility the beta will roll out later to more regions, but with the COVID-19 pandemic Riot is currently focusing on the regions where it feels "most ready".
How do I get a key?
Riot Games is collaborating with Twitch when it comes to gaining closed beta access, so you'll need to get signed up with the streaming platform if you're based in Europe, Canada, Russia, Turkey, and the US.
Next, you'll need to follow these steps:
1. Register for a Riot account.
2. Link your Riot account to your Twitch account.*
3. When the closed beta activates in your region (EU and NA for now), you'll need to watch specific Valorant streams highlighted on Twitch. Doing so will make you eligible for closed beta key drops.
It's then simply a case of watching these streams for a couple of hours to ensure you've been whitelisted. You won't know that this has happened, but rest assured that once you've watched a fair amount of Valorant streams you'll be eligible. From here on out, you don't actually need to watch streams as you'll still get an alert via Twitch and through your registered email account if you're lucky enough to get a key.
For more info on this, the tweet below has everything covered.
Day 1 of Closed Beta was a learning experience. @RiotSuperCakes and @RiotZiegler are here to update you on yesterday's launch in EU/NA, clarify some concerns around how you get access, and talk next steps. https://t.co/sb5VtYSEn0

VALORANT (@PlayVALORANT) April 8, 2020
* Once you've created both your Riot and Twitch accounts, sign in to Twitch. Next, click on your profile picture on the top right of the screen, select 'settings', followed by 'connections'. Scroll down until you spot Riot Games and click 'Connect'.
How do I know which streamers to watch for key drops?
When you're browsing Valorant streams for key drops, make sure you watch only those which have the "Drops enabled! Watch for a chance to earn loot" tag. These are verified channels, so you will definitely be in with a chance of getting into the closed beta by tuning in.
Some channels put "Drops!" in their headline, but this doesn't mean anything. If they don't have the special tag mentioned above, watching their stream won't give you a chance. Do make sure you double check.
Note: Only streams that have the "Drops enabled! Watch for a chance to earn loot" Icon and text or the Drops Enabled tag below the stream title are verified Twitch Drops enabled channels for the VALORANT Closed Beta. pic.twitter.com/FpCn0Bi55t

Twitch Esports (@TwitchEsports) April 3, 2020
Above we've embedded an official tweet from Twitch which should give you a better idea of what message to look out for.
How do I know if I get a beta key?
At the top right of your Twitch home screen, you'll find a red marker in the notification panel which is sat between your Prime Loot and Whispers. Click on it, and it'll say that you've got a Valorant Key!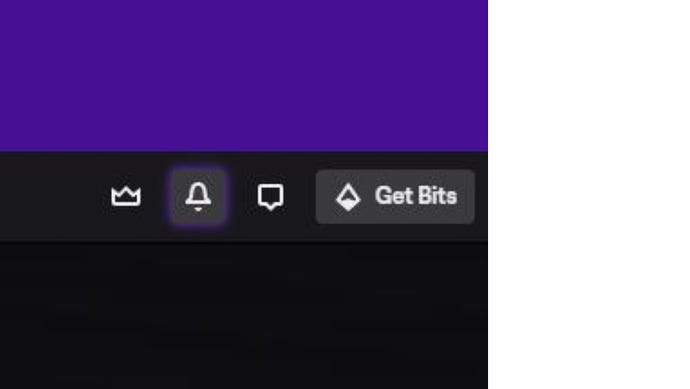 We've linked an image of the notification panel above. It's the bell icon in the centre.
We received our key in the middle of the night while we were asleep and woke up to an email in our inbox from Twitch. So you don't need to be on high alert, especially if you've got email push notifications on your mobile devices - it's going to be hard to miss.
When is my last chance to get a beta key?
Key drop streams will be active from the 7th April, with many streamers advertising 5:00am PT/ 8:00am ET/ 1pm BST as closed beta launch time. Again, just make sure you keep an eye out for the official "Drops Enabled!" tag. Even if it says so in the title, the special tag is all that matters.
The closed beta marches on and closed beta access is still being granted. As the tweet below mentions, you don't need to watch drop enabled streams 24/7, so once you've watched a couple of hours, take a break - you'll still get an alert via email or on Twitch if you get a key.
One week in. A couple notes as we get into the weekend. 1. Drops are running 24/7. If youve watched a lot... take a break! CB access comes even when youre offline. 2. We hear you on demand. Weve already increased CB server capacity +25% and are tracking down more internet.

VALORANT (@PlayVALORANT) April 11, 2020
Fingers crossed!
How long will the closed beta last?
Initially Riot stated that it didn't envisage the closed beta lasting that long, but did say that if it "hears a lot of unexpected feedback from players during this period, we'll evaluate". Clearly they've heard back from its community and changed tack. At the time of writing, the closed beta has been knocking around for well over a month now!
We can see the closed beta lasting indefinitely from here on out, perhaps transitioning into Open Beta with one big patch, followed by another 1.0 patch before it officially launches sometime this summer. Keeping the closed beta running means Riot can gather continuous feedback and iterate on the game as much as possible before launch. We simply can't see it shutting off all access at all, to be honest.
Why is my region not included?
The plan is to roll out to more regions as fast as possible, "pending the volatile logistics of launching a beta effectively during a global pandemic". Riot has chosen to focus on other regions first as this is where it feels "most ready".
Here's the full statement from Valorant's executive producer at Riot Games, Anna Donlon:
"Our plan was to bring the VALORANT Closed Beta to as many players around the world as quickly as possible, but the COVID-19 pandemic has impacted those plans, compromising a wider global rollout. For now, we have to focus on the regions where we feel most ready, with more regions following in the months to come.
We want to engage with players as globally as possible as quickly as possible, and so we'll ramp up our player count as much as we can to test our infrastructure, but we won't be letting everyone playtest VALORANT until we're absolutely sure we can handle it in this newly uncertain environment."
Riot's official channels will provide updates if the situation changes, so keep an eye on their social media feeds for news.
Will my Beta progress carry over to the final game?
Progress will not carry over from Valorant's closed beta into the final game. This is because the game's current state may change drastically at launch, plus, "it's better that everyone's progress begins at the same starting line".
What happens to Valorant Points I purchase during the closed beta?
At launch Riot will give you all of your Valorant Points (VP) back, with an additional 20% bonus as "thanks for engaging with our work-in-progress skins and store". For example, if you purchase 10,000 VP during the closed beta, you'll get 12,000 VP at launch (this bonus applies to bundles bonuses when purchasing larger amounts too).
To get yourself ready for Valorant's closed beta, make sure you have a glance at our Agents overview, as well as our Best Guns page for a preview of all the abilities and weapons you'll be wielding!
Expect plenty more Valorant guides from us on the site, stay tuned.