Valve issue feature-filled Steam Deck software update, unbreak Ubisoft launcher games
Ubisoft Connect and SteamOS had a falling out
Last night was a restless one for the Steam Deck. In addition to a huge client update for the handheld PC, Valve pushed out a Proton Experimental update to fix a crashing problem with games that use the Ubisoft Connect launcher on Steam.
Ubi's launcher had received an update of its own, sadly one that interfered with the ability of Proton – the layer of software that helps made-for-Windows games run on the Linux-based SteamOS – to keep it compatible with the Deck. Indeed, just like the 2K Launcher last year, with the added irony that the affected games (which include The Division 2, Watch Dogs Legion and Ghost Recon Breakpoint) only arrived on Steam in the past few weeks.
Valve's fix does require a moment of manual input, but it's easy enough if you now find yourself locked out: open the Properties menu of the affected game, head to the Compatibility section, check "Force the use of a specific Steam Play compatibility tool" and select Proton Experimental from the list. From my checks this morning, this does the trick, though the expected caveats about experimental branches lacking full testing will apply. Hopefully this fix makes it way to Proton's stable branch asap, as without it, all you'll see after launching is this error screen: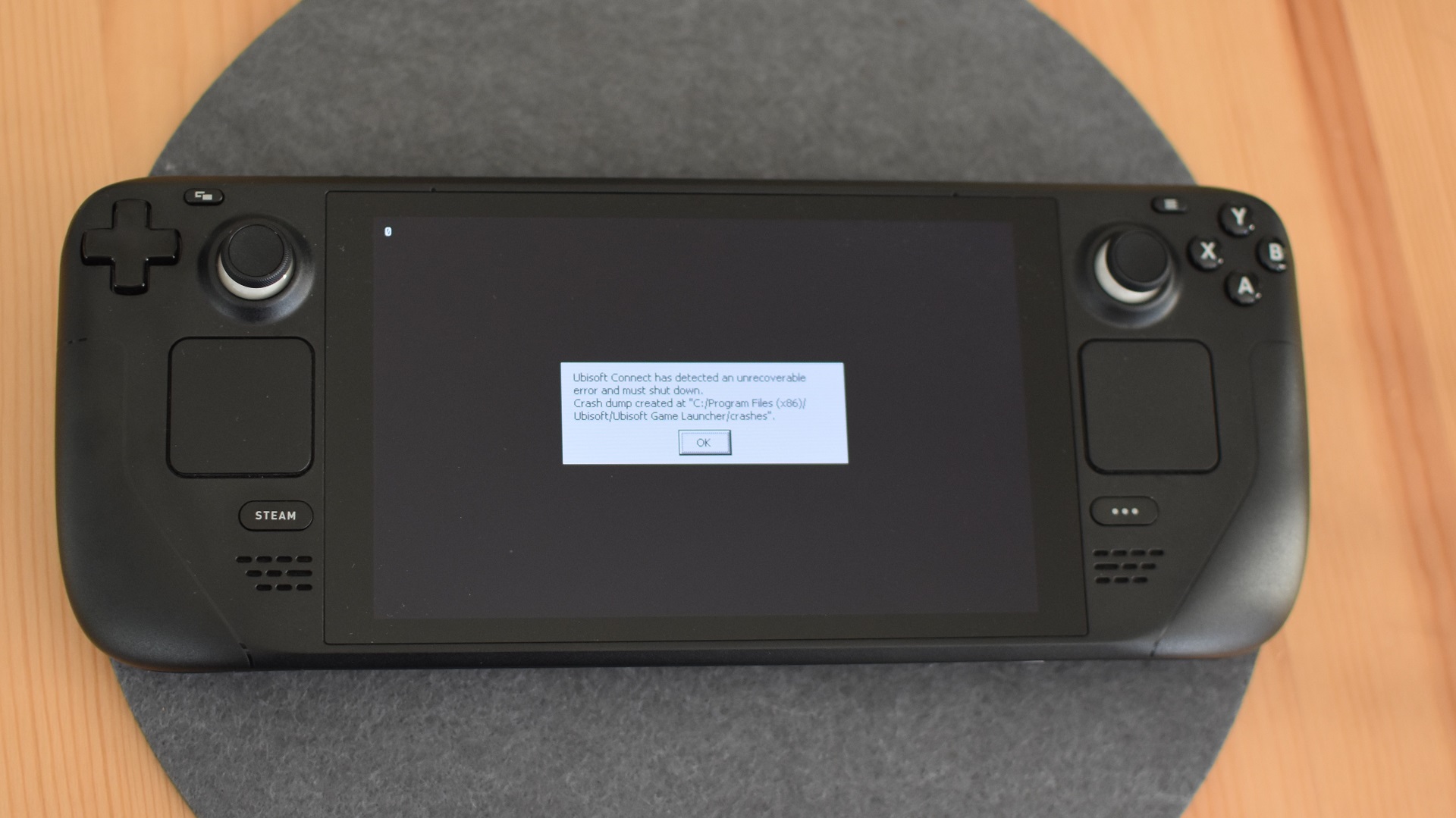 On a happier note, there's dozens of positive changes in the client update, ranging from UI improvements to bug fixes related to specific mice and keyboards. Too many to just paste here, really, so have a read of the patch notes for the full list. My personal highlight: the Navigation pane in the SteamOS overly is now centered properly. That always bugged me!
Extra cursor keys on the onscreen keyboard is another nice touch, and gyroscope calibration has been upgraded to more intelligently account for possible drifting. I've been curious to try gryo controls more often, after belatedly watching Team Fortress 2 YouTuber SolarLight's video on the subject, so that improvement sounds good to me too.
Between this Ubisoft Connect issue, GTA Trilogy – Definitive Edition, and the Dead Space remake, it's not been the Steam Deck's best month. Even so, it is nice to see fixes for Proton problems pop up as quickly as they have been, here and for Dead Space especially. And there's always the 30 best Steam Deck games when you just want to play something that works out of the proverbial box.