Walking Dead Season 3 Shuffling Onto PC In November
Novembaaarghhh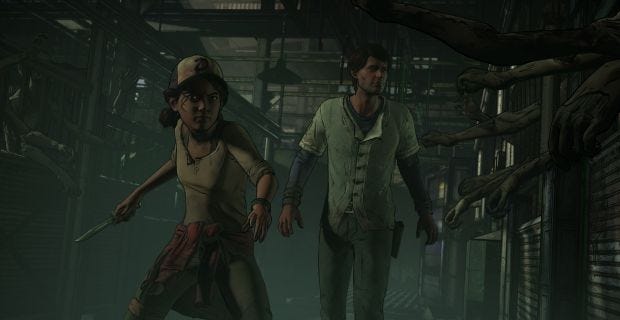 The third season of guts 'n' conversation adventure game, The Walking Dead [official site], will be coming out this November, Telltale has telltold the people of PAX. As we heard at E3, Clementine is making a return – older, wiser and probably much more killy. She'll have another playable character alongside, the lesser-known Javier, who has "been through hell" and looks a bit like a knackered Zac Efron.
The season's official title has gone a bit overboard, and they are now calling it: "The Walking Dead: The Telltale Series - A New Frontier". It's set four years after the events of the first season, and Clem is now a teenager with bucketloads of zombie-murdering experience. Javier, meanwhile, is "a man struggling to keep his family together in the new world." As ever, the decisions you made in the last game will carry over in some way. Here's what Kevin Boyle, producer at Telltale, had to say about it.
"When we began this series, we explored what it meant to protect a character like Clementine at all costs. Years later, meeting her for the first time, Javier will begin to unravel the mystery of who Clementine has become, as her story intersects with his - both of them still driven by the things they value most long after society's collapse."
In other Telltale news, Batman's second episode has also had its release date unveiled. But there's no news on the second season of their Game of Thrones tie-in, except that it's still planned. I enjoyed that one the most, I think, the way each playable character was often at odds with another, the Forester at King's Landing pitted against the Foresters at home. Or maybe that's just because I played it through with my other half, her making the decisions for some characters, me making them for others, often shouting at each other "WHAT ARE YOU DOING" when our choices didn't align. Anyway, more of this sort of basic treachery please.
And you? Looking forward to seeing Clementine again? Or has she served her purpose as the series mascot? Press left to throw her into a pit of zombies, press right to save her from their bony hands. You have two months to make your decision.