War In Kryta: Guild Wars => Guild Wars 2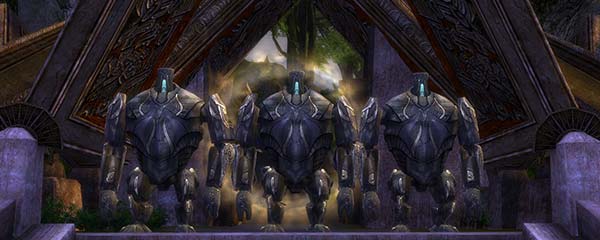 LORE EXCLUSIVE. I don't think we've had one of those before. Lore! Pure lore! Big proper info on long-awaited MMO sequel Guild Wars 2 is bound to hit during E3, but until then here's a scoopette on how it's going to link up to the first game. Including a couple of Big Fat Hints about what kind of world GW2 will be. Lumped under the Guild Wars Beyond umbrella, there's going to be a series of updates that setup the world and the narrative for whatever goes down in GW 2. In other words, a storm is coming. And, judging by these screenshots, it's a robo-storm... Your first details on the War In Kryta are below, chums.


(Click for full-size, uncropped images, by the way)
First, key points:
a) Are they ending GW1 when 2 arrives, or do phrases like "the world of Guild Wars 2" suggest they'll co-exist?
b) Gwen's back! Again! And this time she's the architect of the future! You don't get many Random Little Girls From The Tutorial who go on to achieve that kind of stature. Good work, Gwenno.
c) GW2 will be set 250 years on, which suggests we'll be faced with a very different world. One in which humans are embattled. By what? Robots? Please say it's robots.
d) LITERALLY TAKE PART IN HISTORY. LITERALLY.
Here's the exclusivostatement about the upcoming War In Kryta event. There were a whole lot of ®s and ™s in this, but I've taken them out to protect innocent eyes.
This spring NCsoft and ArenaNet celebrate the fifth anniversary of Guild Wars with Guild Wars Beyond, an ongoing campaign that expands upon the Guild Wars storyline by focusing on key characters and events that are destined to make history leading up to Guild Wars 2. The first such event, the War in Kryta, sweeps players up in a savage struggle between the oppressive White Mantle zealots and the Shining Blade rebels for the fate of Kryta.
Guild Wars Beyond allows players to experience the War in Kryta from the very beginning to its fateful finale through an intriguing viral campaign, a website that enhances the storyline, and with gripping new in-game content. They'll join the battle for Kryta by participating in exciting quests, taking part in decisive battles, and by purchasing the new White Mantle and Shining Blade costumes for their character. Guild Wars players will literally take part in history, as the War in Kryta has a profound effect on the world of Guild Wars 2.
Within the war, players help the Shining Blade rebels oppose the White Mantle, a militarized cult that rules Kryta, in the hopes of restoring the Krytan monarchy and installing Princess Salma as queen. The legacy of these deeds carries 250 years into the future, where Salma's descendent Queen Jennah leads the embattled humans in Guild Wars 2.
In addition to Salma's storyline, the War in Kryta also focuses on several key characters that are destined to make history - Gwen, a brooding, beautiful elementalist, and Lieutenant Keiran Thackeray, a charr-hunting ranger. Gwen and Lt. Thackeray are destined to marry and establish the human city of Ebonhawke, a key location in Guild Wars 2, and their descendent, Logan Thackeray, is one of the iconic characters in Guild Wars 2.
In the coming months, Guild Wars Beyond will continue to unveil important Guild Wars 2 information and content via the current Guild Wars live game. For more information on Guild Wars and the War in Kryta, please visit www.guildwars.com.
So there you go. What think you, Guild Wars player? Excited? Worried? Exirried?