Warhammer 40,000: Darktide next patch adds new missions (and possibly crossplay?)
Devs say they "missed the mark at launch"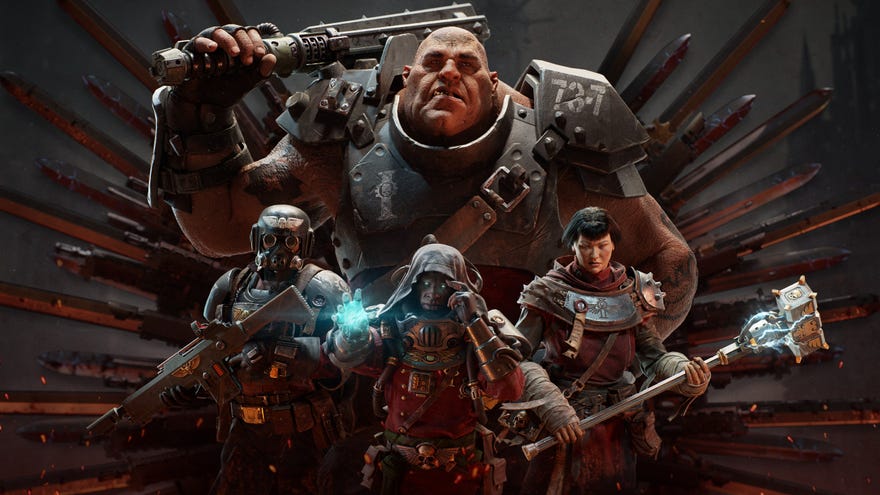 A hefty new Warhammer 40,000: Darktide content update arrives in the next week, adding two new missions as well as possibly preparing to let players on Steam and the Windows Store (that's you, Game Pass gang) play together. It won't fix the fundamental flaws of the grimdark Left 4 Dead 'em up but these are welcome changes. Darktide is also adding new cosmetics to earn by playing (yeah!) and resuming the release of new cosmetics sold for real money (yeahhh).
Update 10, 'Rejects Unite', is due to launch "towards the end of" Games Workshop's Warhammer Skulls event, which runs from today through Thursday the 1st of June. The headline feature is two new missions: raiding archives and offices in Archivum Sycorax - Throneside, and yoinking crystals from a transit hub in Ascension Riser 31 - Transit.
That second one will initially be locked behind a community challenge, requiring players to collectively complete 1,400,000 missions. That sounds high but I assume developers Fatshark have calculated it's achievable within a reasonable timeframe. To help hit that dizzying goal, playing on higher difficulty levels will count as more completions.
A new enemy is in too, the Chaos Spawn. You might recognise this warped mess of meat and tentacles from Vermintide 2, now tweaked to fit its new home. Fatshark explain, "Changes from VT2 include a new leap attack to close distances faster, new combo animations to reinforce the erratic frenzy theme, tweaked existing attack animations to reduce some of the fast damage timings, and new grab animations to fit our Ogryns."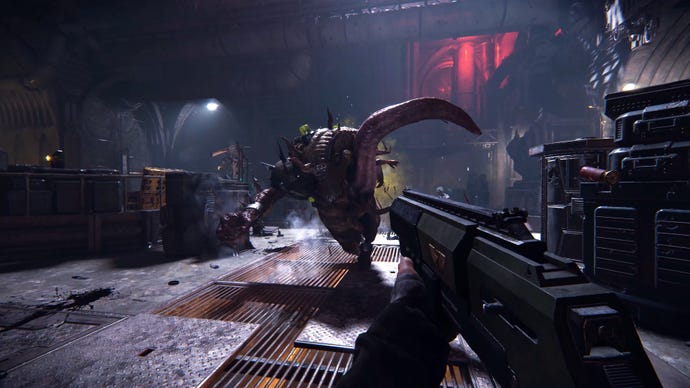 A new shop has opened on the ship to house the game's earnable hats and trousers and such, with new cosmetics in now too. And "after a break spent to focus on improving Darktide", developers Fatshark have starting selling premium cosmetics in the microtransaction shop.
According to a press release we received before today's Warhammer Skulls stream, cross-store multiplayer between Steam and the Windows Store is also coming with Rejects Unite. But a version of the press release made public after the stream had cut both mentions of crossplay. Neither Fatshark's announcement nor their devblog post mention crossplay either. So. Maybe? Maybe not? A last-minute change of plans? A fumbled attempt to make the feature a surprise? Either way, crossplay is overdue.
Honestly it's daft that Darktide launched without crossplay. Historically no one cared when Windows Store players were locked into their own multiplayer pool, because no one bought games on the Windows Store. But when a game is on Game Pass, cutting players off from their Steamy pals is a real ache. In my own palpool, several folks were unable to play with the rest of us, which certainly didn't help how quickly we abandoned Darktide.
"We know we missed the mark at launch," said executive producer Juan Martinez in the press release. "We acknowledged it, went through community feedback, and changed our approach to servicing the game. We're updating Darktide regularly and have released two content drops, nine updates, and numerous hotfixes since launch. And we're not stopping. Our latest drop, Rejects Unite, adds even more new content for everyone to sink their teeth into. I couldn't be prouder of what the team has achieved thus far. And there's more to come soon."
New levels are certainly welcome but the main reason I stopped playing Darktide remains unaddressed: the grindy gear and crafting systems are ireedemable. As I said in February, "It's a waste of my time, expressly designed to waste my time." No amount of tweaks and changes could be better than simply removing all this guff and just letting you play with the gear you want. And that's the worst part of all this: Darktide really is fun to play aside from this guff, a loud and mucky romp through WH40K with cracking co-op ultraviolence. But like too many games these days, it tries to monopolise your time with busywork rather than trusting that you would want to play because it's fun.
See our Warhammer 40,000: Darktide review for more on the good and the bad.
Darktide has a 30% discount on Steam right now, making it £23.09/€27.99/$27.99 until the 8th of June. And it's still available on PC Game Pass.