Warmind is Destiny 2's second expansion, out May 8th
Destiny new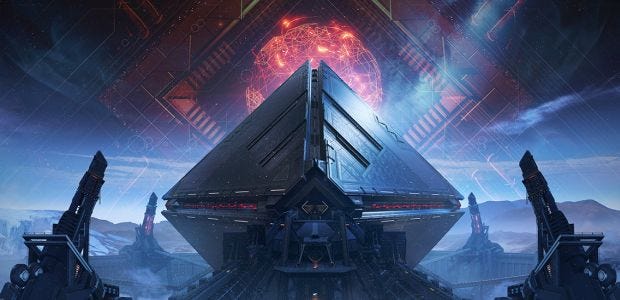 I keep saying I'll return to Destiny 2 in posts like this one, then reneging on that. For realsies though, this time I will: Bungie have let loose the name and date for the second expansion. It's called Warmind, and you can start shooting at it on May 8th. Those are the only details we're getting for now, though in non-expansion related news Bungie have another development roadmap for your eyeballs. Season 3 kicks off with the expansion and adds private matches to the Crucible. Season 4 starts in September, when Bungie say they'll start toying around with randomised weapons.
For the handful of people that have clicked through and don't already know, Warminds were the AI supercomputers that humanity created during the Golden Age to fend off alien nasties. Rasputin is the only one we've met so far, I believe, but that teaser image above suggests we're about to encounter another.
Given how little we've got to go on for expansion speculation, I'll move swiftly on to the other updates Bungie have in the Destiny pipes. On the Crucible front, I'm pleased to see that this time round Bungie are keeping expansion-buyers and everyone else (mostly) in the same multiplayer boat:
"For every player of Destiny 2, we'll be releasing all of the new Crucible Maps being developed for Warmind into matchmaking. The same goes for the maps we released with Curse of Osiris. To keep the community in the Crucible unified, everyone will see new arenas in matchmade playlists like Quickplay, Competitive, Trials of the Nine, Iron Banner, as well as the new weekly rotators that include Rumble and Mayhem. That means more opponents for everyone."
The one catch is that you can only play the new Warmind Crucible maps in private games if you own the expansion, and the same goes for the Curse of Osiris maps. The update post has a handy guide to what will and won't be available for everyone, if you're worried.
Jumping ahead to Season 4, Bungie mention that they want to "bring back those exciting moments when you acquire the perfect weapon". I'd say more extensive weapon randomisation has a good shot at doing that, though the other updates Bungie are keen to push as addressing that problem leave me nonplussed - "Weapon Slot Changes, Gear Collections, and Records". Capitalise all you want, mate, I'll still only really care about the changes that Make Shooting More Fun.
There's some smaller stuff I haven't mentioned here, which you can check out for yourself on the update page. Bungie say they'll tell us more about the expansion in a reveal stream on April 24th, the big teases.