Fancy Fancy - Wasteland 2: Director's Cut Is Out
Faster, stronger, etc.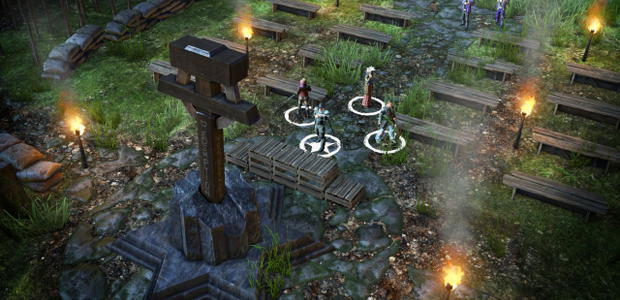 You think your copy of Wasteland 2 [official site] is plain and unadorned, do you? Go on, check your pocket. Like a street magician without the tight black t-shirt (you can't squeeze 40-odd people into one of those), inXile Entertainment have distracted you with their god-awful tattoos and some slick patter about the weather then quietly slipped into your pocket a copy of Wasteland 2: Director's Cut. It's the improved, expanded version of the post-apocalyptic RPG with fancier graphics, more voicework, character perks and quirks, a rebalancing, and more.
Or you can stick to the old version, if you want. Magicians make me feel uneasy too.
As inXile Entertainment explain, the Director's Cut brings an upgrade to the Unity 5 engine with fancier lighting, updated environment and character art, thousands of lines of new voicework, controller support, and a hefty rebalancing. It also adds a new 'Precision Strikes' system letting you target enemies' individual bodyparts - like Fallout's V.A.T.S. - along with 'Perks' that give characters extra bonuses as they level and 'Quirks' that give them more personality through positive and negative effects.
Unfortunately, save files will not transfer from the old version to the new; they're simply too different.
The Director's Cut is now on Steam and GOG, slipped into the collections of folks who owned the original as a separate game, so you can still download and play the old version if you want.
Or, if you're entirely new to Wasteland 2, you can now buy this for £30. Here, have a launch trailer: