GSC Game World's Cossacks 3 Charging Into September
New-ish?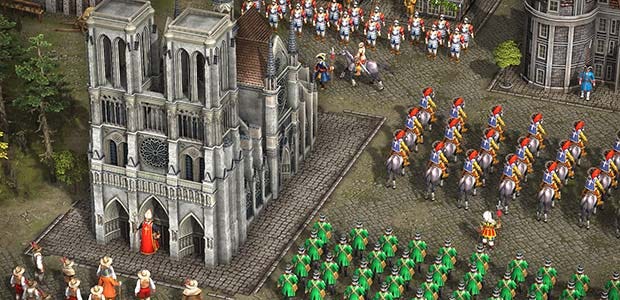 GSC Game World have announced a release date for Cossacks 3 [official site], a remake of their 2001 RTS Cossacks: European Wars. If you loved Cossacks already then now's the time to pay attention. It'll be out September 20th.
What's a Cossack? A Cossack was a landowner, or group of people under a landowner, beginning in 14th century Russia and Ukraine, allowed relative freedom from the Tsars because they protected the frontiers. Also it may just refer to a Russian or Ukrainian soldier who was drafted by the Tsars or other rulers. I think. While I have a limited knowledge of history at best (Crusader Kings hurts my brain), I imagine that history buffs of all kinds will love Cossacks 3.
Side note: This game is definitely Mark from Peep Show's favorite game.
Cossacks 3 focuses on battles in 17th and 18th century Europe. As far as RTSs go, this one looks impressively detailed. The graphics appear to be a mighty upgrade, with some very elaborate little soldiers and serfs and tons of cobblestones. I'm particularly impressed by the architecture.
It all looks very pretty, but I can't really speak to how it plays. If you liked it before, hopefully this will be the upgrade you both need and deserve.
As per the press release, you should look forward to realistic physics and huge battles (some 10,000 units), as well as co-op play and 12 different playable nations.
It'll be available on Windows, Mac, and Linux but we don't know for how much yet.