Would You Like A Wildstar Beta Key? We've Got 700
To giveaway. We're not just bragging.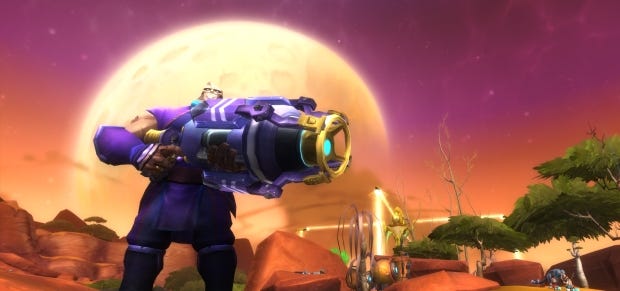 Update: Aaaaand the keys are all gone. That didn't take long. Sorry to those who missed out, and we hope those of you quick enough to get a key have a pleasant weekend. Come back and tell the rest of us what you think of the game in the comments.
Earlier this week we linked to a communal pool of 40,000 Wildstar beta keys. They vanished in an instant, swallowed whole by the swelling masses who want to play NCSoft's new scifi MMO. Now we have 700 more keys to give away which are just for us and, if you're fast enough, just for you. If you fancy playing the game this weekend, head below.

Wildstar is a sci-fi MMO determined to serve almost every possible type of MMO player, whether you want to build and craft your own floating island on the sky, bash aliens and monsters all day, or just wander around enjoying the pretty vistas. I've played quite a bit of it at press events over the past couple of years, and I've enjoyed it more than any MMO of this type in a long time. Yeah, it's World of Warcraft-ish. But that game had its charms, once, and Wildstar has a few neat ideas of its own. It gives good WoW.
Here is more information from the developers:
Or you can read our hands-on Wildstar previews
Double-Or you can try it for yourselves by entering your email address in the widget below. It's first come, first served, so if you're one of the first 700 people, it should send you an email shortly afterward containing your key.
The widget did appear here, but we've removed it since there aren't any keys left. Sorry!
The keys will be valid for this weekend only, netting you access to the game's servers from 3pm GMT earlier today (we're late!) to 7:59am on Monday March 3rd. Once you receive the key, you need to sign up for an NCSoft account at the Wildstar website, follow the links to register for the beta, and then click the "Apply a code".
The keys are being distributed through godankey.com, who won't use any email address for commercial purposes.