WildStar shutting down on November 28th, heralded by special events
RIP Carbine Studios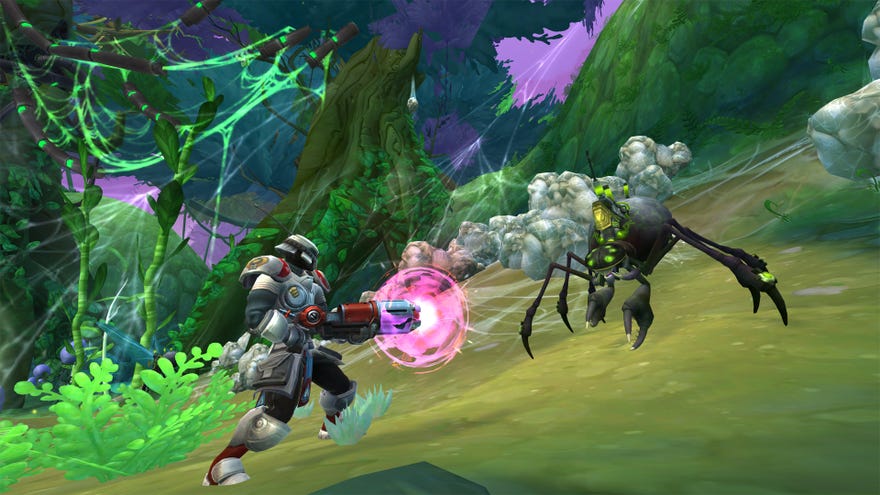 Following NCSoft's recent announcement that they've shut down Carbine Studios and close their game WildStar, we now know just when the sci-fi MMORPG will shut down: November 28th. They're hoping to send it off with a bang, at least. Special seasonal events will return over the coming weeks, rewards and drops have been massively boosted to get everyone the good stuff, and all players are getting the premium subscription 'Signature' benefits for free. Hell, may as well go down partying.
"We are truly grateful for the vibrant community that grew around WildStar, and for all of your support throughout the life of this game," the WildStar team said in yesterday's announcement. "Our hope is that in these last couple months we can all celebrate the great adventures you've had on Planet Nexus—and have some fun along the way."
Yesterday they launched a patch flicking a lot of switches to funtimes. XP is doubled until shutdown, as are many other rewards, and the Essence materials for high-level progression are boosted even more. All players now have the benefits of Signature status, the optional premium subscription introduced after WildStar went free-to-play, which include bonus XP and cash and the ability to create guilds. And returning events celebrating Halloween, winter, hoverboard races, and more are being squeezed into the remaining weeks.
I'm sure something special will happen on shutdown day too. When MMOs shut down, the devs do tend to go wild with special and unusual silliness they couldn't do on a proper live game.
See the WildStar 1.7.8 patch notes for the nitty-gritty, if you know what things like Crimson, Cobalt, and Viridian Essence are and want to know exactly how much more you'll get now.
Refunds are going out to WildStar players who've bought premium doodads recently, and should be processed by October 3rd.
If you want to visit WildStar while you still can, you can grab the client through its site and on Steam. It became free-to-play in 2015 and the F2P-isation was quite generous, Angus Morrison said in his WildStar Reloaded review - and it's even more so now.
Ah I can't resist one more...