Win: City Of Heroes' Wedding Theme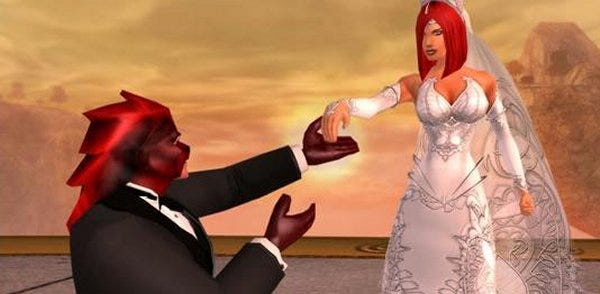 While RPS is displeased that Britain's future king elected to go against tradition and marry a woman instead of a horse, we're not entirely without heart. As such, we're going to make the big day thematically appropriate for City Of Heroes players by giving away City of Heroes Wedding Packs. That's right: NCSoft have give us the premium wedding DLC, worth £5.99, and we can give it away to thirty lucky, lucky readers. Lucky European readers, anyway, as it's limited to Europe. More details below.

NCSoft explain:
The City of Heroes® Wedding Pack includes two new formal wedding costumes and four celebratory character emotes, offering Heroes and Villains the tools to celebrate in style!

The wedding dress costume includes a long lace veil, short stockings, and lace dress and bodice, as well as special "Excess Plus," "Hearts Plus," and "Angelic Plus" costume pieces for chest and hips (all available to female characters).

The tuxedo costume includes an elegant formal tuxedo jacket with tails (available to all characters).

The Propose emote lets players get on one knee to pop the big question with the proper amount of formality (or just speak in a particularly romantic fashion) and three celebratory emotes allow players to toss heart and diamond shaped confetti, rose petals, and of course, rice.
Woo!
You can apply to win by emailing us this address with a description of how you would propose to RPS, were one allowed to marry a website. The best proposals will win the codes. But get a move on, because I'll be judging these as they come in, and when they're gone, they're gone.