Win: DC Comics Stuff Via Titan Books!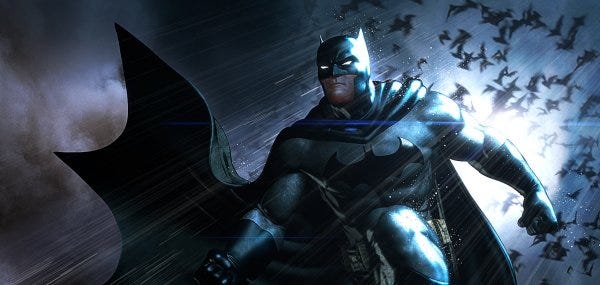 To celebrate the launch of DC Universe in the UK, Titan Books - the UK distributors of DC Comics - are giving away a bunch of their books to a lucky/motivated RPS reader. Check below for details of what you can win, and how to enter. Sadly, you can only enter this competition if you are a resident of the United Kingdom. Sorry!

WHAT YOU CAN WIN: ALL THIS STUFF!
Blackest Night
Throughout the decades, death has plagued the DC Universe and taken the lives of heroes and villains alike. But to what end? As the war between different coloured Lantern Corps rages on, the prophecy of the Blackest Night descends. Now it's up to Hal Jordan and the Green Lantern Corps to lead DC's champions in the battle to save the Universe from an army of undead Black Lanterns made up of the fallen Green Lanterns and DC's deceased heroes and villains.
Batman: Year One
Lieutenant James Gordon takes up a new post in the crime-ridden and corrupt city of Gotham, while billionaire Bruce Wayne returns to the scene of his parents' deaths, intent on avenging their memory. Each faces trials and challenges of their own, only for their lives to become irrevocably and potentially tragically intertwined...
Superman: Earth One
J. Michael Straczynski joins forces with rising star artist Shane Davis to create this original graphic novel that gives new insight into Clark Kent's transformation into Superman and his first year as the Man of Steel. This is the first in a new wave of original DC Universe graphic novels, featuring top writers' and illustrators' unique takes on DC characters.
Wonder Woman: Love & Murder
Wonder Woman has found her place after the Infinite Crisis - posing as Agent Diana Prince - but her world is soon thrown into turmoil as Circe resurfaces with a cunning and malevolent new plan, and the Amazons, led by her mother, Hippolyta, attack America! Can the daughter of Themyscira stop the disaster about to unfold?
Batman: Arkham Asylum Anniversary Edition
In Gotham City's home for the criminally insane, Batman confronts his arch-nemeses, including the Joker, Two-Face and more. Before the battle is over, Batman's mental straight-jacket will have been torn apart, exposing his every weakness and bringing him far closer to his foes than he could ever possibly have wanted!
HOW TO WIN
Send us an idea for a DC Superhero comic / PC game crossover, like "Headcrabs vs Batman", "Wonder Woman Meets Duke Nukem", or "Superman's Adventures In Minecraft", only better, with a brief synopsis of what happens in your imaginary comic plot explosion. The best idea as judged by the editor will win the prize. UK residents only! You will be contacted for a postal address if you win. Usual rules stuff applies. Closing date is 24th Jan.