Windows 2013: Gorogoa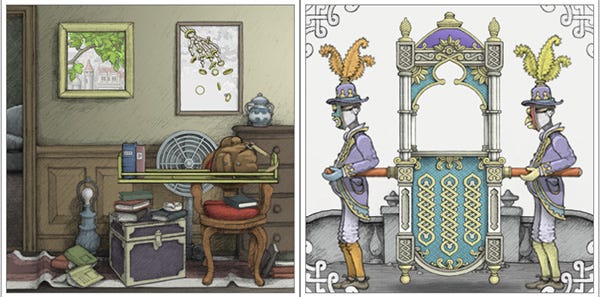 If Terry Gilliam was a bit more of a softie and made videogames, they probably wouldn't sell very well and would be increasingly disappointing as he got older. They might also look a bit like Jason Roberts' Gorogoa, a rather pretty, painterly take on the middleground between room escape games and point and click adventures.

The only thing trickier than describing Gorogoa, which scooped up the visual design award at this year's IndieCade, is playing it. I am currently stuck, but am okay with that as getting stuck in games has become a vanishingly rare experience these days. Kids today, etc. Puzzles - though the entire game appears to be one, elaborate, inter-liked puzzle, entail moving around four 'squares' into which the game's world is divided, layering them on top of, next to and within each other to open up new sequences.
Like Samorost, It is very much lateral thinking rather than conventional logic, and the air of feyness will not appeal to all, but there's a rewarding fluidity when sequences are hit upon, as multiple squares combine into a series of events and the pay-off of a charming new hand-drawn scene.
Gorogoa isn't out yet (and won't be until late next year_, but there is a free demo to poke at. I've not done a great job of describing that, but once again maybe that's a blessing in disguise - it's the act of discovery that makes Gorogoa such a pleasure.